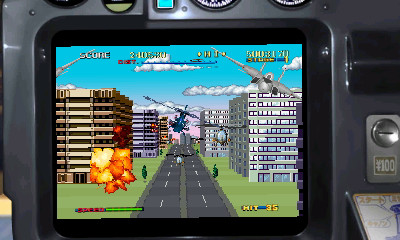 *Insert whining about Japan getting all the good stuff*
Ok, I've composed myself.
Japan is getting another classic Sega game ported to the 3DS with some nifty add-ons. Thunder Blade will be added to the 3D Classic library. As of now, the add-ons announced are the ability to play the game in either 4:3 ratio or widescreen. Within the 4:3 ration, you can select an authentic arcade cabinet border (pictured above) to really make you feel like you're avoiding homework again! There are also optional motion controls to give you a real sense of the arcade, and a "Special Mode," which has a new final stage.
Kidding aside, I would love for this an all of the second phase of 3D Classics to come state-side. The last time I turned on my 3DS was to play the first phase after all. Get on it, Sega!
[Source: Siliconera]