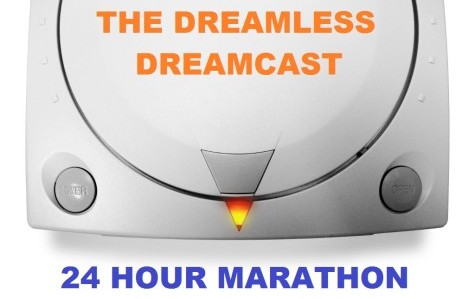 The deed is done. We survived another year of the Dreamless Dreamcast 24-Hour Marathon. Happy 15th Birthday, Dreamcast! We stretched our sanity for you! How did it measure up, you ask? Hit that jump button to hear how Brett and Scotty maintained their sanity with a little help from new friends.
When I woke up before the sun in preparation of the marathon, I was bit worried that somehow I was not prepared. Those fears were shortly dashed away when I looked at my last-minute notes from the night before: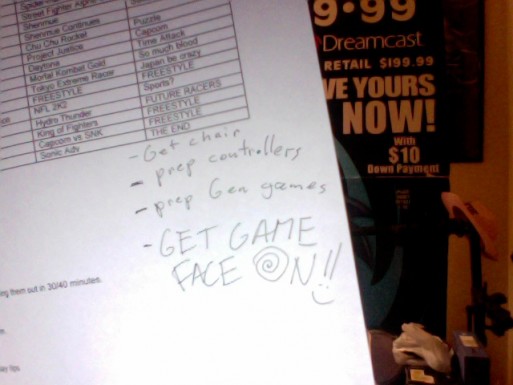 I knew everything was going to be just fine.
Last year, Josh Newey and I persued the Dreamcast marathon with a split stream on Twitch TV. It was a great time involving my roommates, Ryu's forklift (in Josh's living room), and great people in the chat room. This time around, Brett and I tackled 24 straight hours of Dreamcast goodness. The day was well-spread across all genres with a few rarities here and there, which were fun to introduce to people.
Speaking of people, we had so many new digital faces in the chat room – it was awesome! We have to give big shout-outs to Radio Sega, and SEGAbits for spreading the word about the marathon. We had some great discussions going in the chat room from the Epic Dairy Queen Blizzard Mystery, to discussing our collections and first Dreamcast games, to even convincing our longest viewer, Dr. Scottnik, to pick up a Dreamcast! At the very end of this writing, you can find a special thank you to all of our viewers. You guys ROCK! And thanks also to our cohorts Stevie and Pocky X for jumping into the hang-outs feed.
However, none of this would have been the marathon it was without major help from tech wizard, Brett. So let's get his opinions on all the happenings that… happened! Take it away, Brett!
So this was my first time fully participating in our pokey little marathon, and I gotta admit, I was nervous about the whole thing. I was worried I wouldn't get enough sleep beforehand, that my Dreamcast (which I have nicknamed Old Faithful after this experience) wouldn't be able to hold out, that I wouldn't be able to be entertaining enough for an entire 24 hours, and that Scotty/Stevie/Pocky would probably want to kill me after dealing with me for such a long time.
Thankfully, none of those fears came to pass. Well, the jury's still out on the "killing me" thing. That'll probably still happen at some point. But I digress. It was a damn fun experience, although not without its difficulties. I can't think of anything more heartbreaking than going on a massive luck streak with gashapon in Shenmue, then losing everything thanks to a console crash (I blame Satan Tom). Well, aside from losing at Daytona to Scotty. I mean, what the hell! Look at this!
No worries, I'll have my revenge one of these days. There were also my failed attempts at relearning the classic Resident Evil controls, Spider-Man being more of a plodding chore than I ever remembered it being, and bad Midway games like NFL Blitz 2001 and Mortal Kombat Gold being so awful they caused my streaming device to have a breakdown.
But enough about the negatives, as there were far far more positives to be had. Being able to show just why the Dreamcast was a fighting fan's dream console was a joy, and being able to throw underrated games like Capcom Vs. SNK 2 and rarities like Project Justice was incredibly fun to do. I honestly want to go back in and properly learn Project Justice now, in hopes of a never-happening re-release or sequel.
Being able to play games I owned but never touched before, like Blue Stinger and Tokyo Extreme Racer 2, was a joy as well. I went into both games slightly dreading them, or at least dreading having my first experiences with them being streamed for all to see, but came away from both seriously enjoying them. I might even have to fire Blue Stinger up on a separate stream at some point.
Also, the Crazy Taxi money battles with Scotty were some of the most fun I've ever had with that game, which is saying a lot. In the same vein, the coolest thing to me was being able to do this with not only three of my favorite people, but also everyone who popped into the chat. That, probably more than anything else, is what kept me awake and kept this thing super fun.
All in all, it was a great experience. I mean, good games on the best system of all time, and great people to share em with. I can't think of a better way to celebrate our beloved Dreamcast than that.
Thanks, Brett!
Now without further ado, here are all the screenshots we posted on Twitter during the Marathon, with a few that didn't make it, to capture what really went down. Take some time to read the chat room comments (click on each pic to enlarge it), as they were the majority of our fuel.
11PM: We played Illbleed and Blue Stinger, and got too caught up to take a screen cap! Sorry!
And look at all the games I get to mail to the awesome people who joined the fun!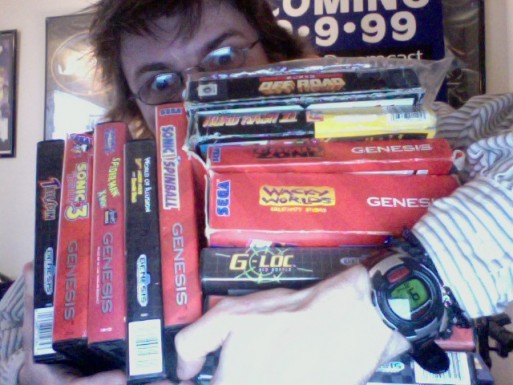 And let's not forget everyone who watched, BS'd, commented, or just questioned our sanity:
razerathane
joeyierardo
andyasteroid
xxionx (sarah)
ajrenshaw69
smokeysmokerson
saturnmemories
drscottnik (VIEWED CONSECUTIVELY FOR 20 HOURS)
sonicxracer
kuso88888
heroart110
stereopathic
wand_and_reloaded
qlink
sammullen
matbrasilgamer
steakpinball
tehaoerizo7
votwinstick
tjkitsune
omgitsnewton (arthurpendragon75)
firetrainer92
zipsesh
apfelpsycho
moltenpolarbear
bmart811
pantsuneko
jugosocl
socraticattack (john doherty)
awinnerwasyou
wokanideacis
ouendanl
ssf1991
breno1288
weakeryouth
powerstreak
locococo147
notdigi
segacr0w
hgbrokencos
merk424
mastermindmelon
fastfeetsmix
godofmoogles
invadeturbotunis
brandonj33
ohdontyousaythat
linkinfiasco
diablone_
mistic192
richsocash
sir shiggidy
blueprintadam
prokl
alex barbatsis
Thanks again to everyone was a part of the Dreamless Dreamcast 24-Hour Marathon! See you next year!