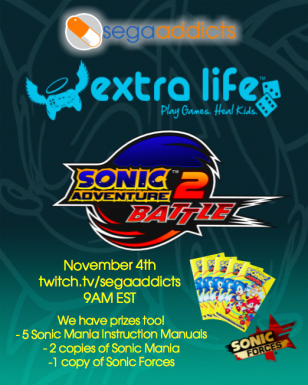 I've always had a weird relationship with Sega in general.  Though I never owned any Sega console besides the Genesis growing up, my sister and I were able to enjoy a fairly wide variety of Sega games through their presence on Nintendo consoles, the most memorable of which being Sonic Adventure 2 Battle, the version of Sonic Adventure 2 that came to the Gamecube. From the fast-paced running levels to the goofy bosses and utterly ridiculous story, we were smitten, and we spent hours upon hours beating the story mode, raising Chaos to be the best abominations they could be, and taking any disputes to Battle mode.  We were two kids, flying in the freedom and living on the edge of an unstable world.  What more could you ask for?
Every year, during our 24-hour Dreamless Dreamcast Marathon, I see all the love that Sonic Adventure 1 gets. I sit back and watch as the others delight in reliving the Dreamcast's glory days. Later in that same day, like clockwork, that joy turns to reluctance, complaints, and general saltiness when Sonic Adventure's little brother, Sonic Adventure 2 comes to play. Every year, the general consensus always seems to be the same: "Do we HAVE to play that?" Let me flip the script on that by asking why you WOULDN'T play it. Maybe it's a bit of an unpopular opinion, but I don't think there's a single thing that Sonic Adventure does that Sonic Adventure 2 doesn't do better, so why all the hate? Don't listen to the Mr. Unsmileys that would tell you otherwise- Sonic Adventure 2 is definitely the superior Adventure title.  Sure, it's not perfect, but that's the way I like it!
The others may not agree with me, but when I think of my childhood, especially my pre-teen years, Sonic Adventure 2 Battle's one of the first games that comes to mind. When I heard that Extra Life Day was coming up, I got to thinking: What better way to do something for the kids than to relive a part of my own childhood? That's why I'll be bringing my younger sister in for a special marathon stream of Sonic Adventure 2 Battle for Extra Life, starting at 9:00 AM EDT on Saturday, November 4 on the Sega Addicts Twitch channel! We'll be playing it until we beat it while also increasing the Chao overpopulation epidemic and taking the salty sibling rivalry to Battle mode. Run out of content on Sonic Adventure 2 but can't stop?  So what! We've got some other games lined up and are more than ready to keep going as long as we're all having fun.  The amount of time we'll be streaming hasn't been decided yet, because it doesn't matter- we'll crush 'em all if that's what everyone wants.  We're preparing some small giveaways, trivia, and other surprises, and as a special bonus, the person that stays active in the chat with us the longest will win a copy of the upcoming Sonic Forces on the platform of their choosing.  We hope you'll come watch us live and learn, for the kids!