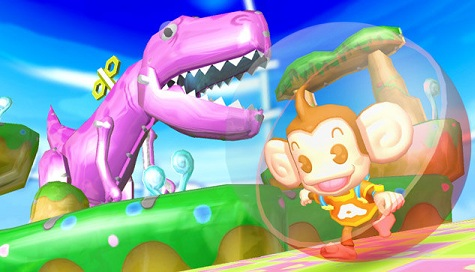 It's time to go bananas for Sega's latest addition to the PS Vita library, Super Monkey Ball Banana Splitz, which was released today across North America. The new game includes over 100 levels of monkey rolling apparently taking place across time, space and texture.
I won't lie, I had forgotten that this was coming out. In fact, because of the game's earlier release and somewhat peculiar advertising campaign in Japan,  I was under the impression that this game was already available in Western territories.
Embarrassment aside, here's hoping that the game does well in the West as helps boost the often criticised PS Vita library. Check out the full press release after the jump.
SEGA is proud to announce the launch of the ballistic Super Monkey Ball Banana Splitz across North America today, arriving  exclusively on PlayStation™ Vita systems.

Players will join AiAi, MeeMee, GonGon and Baby on another grand adventure through time, space and texture! Over 100 levels of bumpers, jumps and humps will test your skills with the sphere; fan favorite party mode games like Monkey Target and Monkey Bowling round out an impressive collection of competitive multiplayer challenges! Taking full advantage of the unique PS VITA features like the rear touchpad, camera, accelerometer and more, Super Monkey Ball Banana Splitz is the ultimate puzzle experience for Sony's handheld device.

For more information on Super Monkey Ball Banana Splitz, please visit http://www.sega.com/.

For press assets please visit www.sega-press.com. For more news, follow SEGA on Twitter @SEGA or "like" us on Facebook.