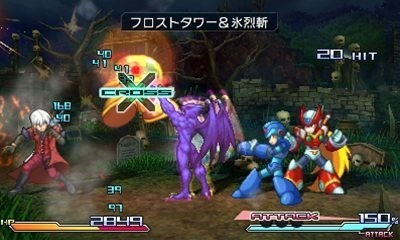 If there's one way to sell a mash-up title to the gaming public, it's to blast them with as much reference-heavy content as humanly possible. Considering how many references there are in this double-header demo originally shown at Tokyo Game Show, it looks like Namco Bandai are really setting out to turn some heads.
The first demo, Ver. A, stars characters from Valkyria Chronicles 3, Sakura Wars, Space Channel 5, Street Fighter, .hack, and God Eater, and is set in the Grand Imperial Theater from Sakura Wars. Meanwhile the second demo, Ver. B, features characters from Resident Evil: Revelations, Devil May Cry, Darkstalkers, Mega Man X, Tales of Vesperia, and Tekken, and will be set in a Ghosts 'n' Goblins locale. 

Just reading off all of those references is making my head spin. These demos alone feature references to no less than 14 Namco Bandai, Sega, and Capcom games, all swirled together into one ridiculously enticing pot. It paints a very vivid picture of how mind-bogglingly jam-packed this thing really is.
[Source: Siliconera]