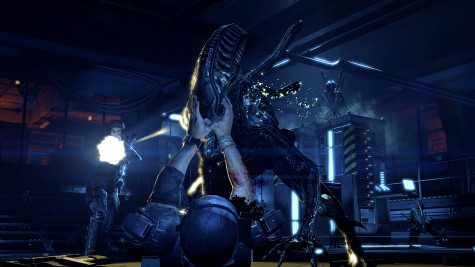 When the latest Aliens: Colonial Marines trailer hit the web a little while back, our reaction was…well, not good. That was due in large part to an oddly out-of-place voice over barking expletives and horrid one liners that just didn't feel congruous with the tone set by previous ads.
Well, that's apparently because that wince-inducing monologue is not actually in the game. Shortly after the trailer first hit the web, Gearbox Software creative director Mikey Neumann piped up on Twitter to allay our concerns,
The dialog in the Aliens trailer today is not from the game. I also did not write it. Love you!

— Mikey Neumann (@mikeyface) January 24, 2013
I kind of assumed that this was nothing more than a blatant grab for the military FPS crowd, but I'd be lying if I said that speech didn't have me a little concerned. It's nice to have some confirmation that this is just another entry in a long line of Sega's marketing snafus.
At least the trailer looked really cool.
[Source: TSSZ]