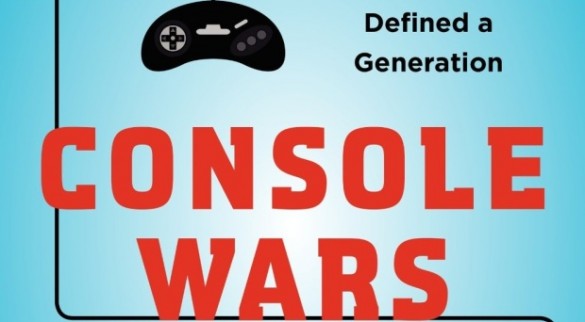 Amazon has a listing for a book releasing in May entitled, Console Wars: Sega, Nintendo, and the Battle that Defined a Generation. The book itself is a behind-the-scenes look at everything that went on between the juggernauts including interviews with employees during this time. Hit the jump to read the description of the book and learn about it being made into a movie.
Following the success of The Accidental Billionaires and Moneyball comes Console Wars—a mesmerizing, behind-the-scenes business thriller that chronicles how Sega, a small, scrappy gaming company led by an unlikely visionary and a team of rebels, took on the juggernaut Nintendo and revolutionized the video game industry.

In 1990, Nintendo had a virtual monopoly on the video game industry. Sega, on the other hand, was just a faltering arcade company with big aspirations and even bigger personalities. But that would all change with the arrival of Tom Kalinske, a man who knew nothing about videogames and everything about fighting uphill battles. His unconventional tactics, combined with the blood, sweat and bold ideas of his renegade employees, transformed Sega and eventually led to a ruthless David-and-Goliath showdown with rival Nintendo.

The battle was vicious, relentless, and highly profitable, eventually sparking a global corporate war that would be fought on several fronts: from living rooms and schoolyards to boardrooms and Congress. It was a once-in-a-lifetime, no-holds-barred conflict that pitted brother against brother, kid against adult, Sonic against Mario, and the US against Japan.

Based on over two hundred interviews with former Sega and Nintendo employees, Console Wars is the underdog tale of how Kalinske miraculously turned an industry punchline into a market leader. It's the story of how a humble family man, with an extraordinary imagination and a gift for turning problems into competitive advantages, inspired a team of underdogs to slay a giant and, as a result, birth a $60 billion dollar industry.
While this is exciting news in and of itself, what's even more interesting is that Seth Rogen (of Knocked Up, Superbad), and long-time directing buddy, Even Goldberg are writing a screenplay for the book and it will be produced by Scott Rudin of Sony Pictures, who also produced, The Social Network and Moneyball.
I really enjoyed The Social Network, so if the movie ends up being anything like that then I am completely on board. Regardless, I'm reserving the book right after I finish writing this article.
Thanks to Sega Negro on the forums for this awesome bit of news. What do you think? Is it too soon to have a book detailing the console war, even though one of the companies is still in a battle, or is this the perfect nostalgia trip into history? Let us know on the forums or in the comments below!
[Source: thebookseller.com]