Last week, we revealed the schedule for the 2017 Dreamless Dreamcast Marathon. Needless to say, we're pretty stoked about the lineup, especially the fact that it has the fingerprints of our fantastic community all over it. Since we're just under a week away from going live, I thought it'd be a good idea to go in-depth about why we picked what we picked for each "block" of the marathon.
So without further adieu, here's a closer look at the first six hours of the 2017 Dreamless Dreamcast Marathon.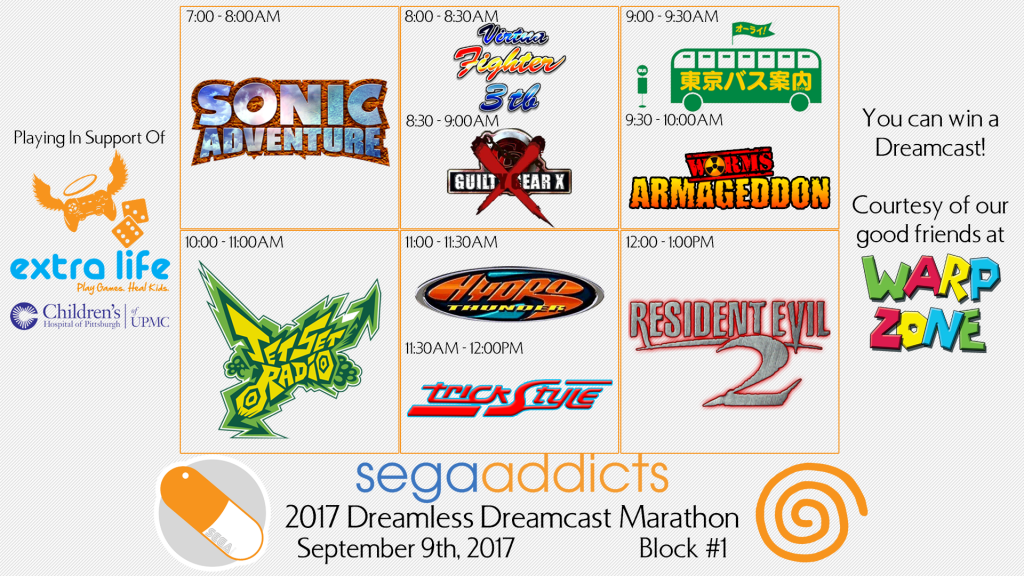 The first game on the list needs no introduction.   Why, we've opened, and will continue to open, every marathon with Sonic Adventure. But the tl;dr is that it IS the Dreamcast. Hindsight and age may not treat SA1 well, but as THE launch title to have on 9.9.99, there's no better way to kick off this Dreamcast lovefest.
In the next hour, we're following up with a duo of fighters. The Dreamcast was a fighting game fan's paradise, being the first system to truly bring arcade level ports home. We've focused mainly on Capcom and SNK's stellar fighters in previous years, so this time, we're switching it up with two marathon debuts! On the 3D side of things, we're bringing you some AM2 love with Virtua Fighter 3tb at 8AM. VF3 is one of the more interesting entries in the series, being the first to shift the gameplay radically from the rather simplistic playstyles of VF1 and VF2, so it should be a fun time for all involved.
At half past, we'll be moving back to the second dimension, and one of the most beloved fight franchises in the industry, with Guilty Gear X. Although it only released in Japan for the Dreamcast, GGX is an absolutely fantastic game, being the first to introduce some of the series' (and company's) trademark systems, as well as fan favorite characters like Johnny, Jam, and Dizzy, and with ArcSys having taken the FGC by storm in the past year, it's only natural that they steal the spotlight from Capcom one more time in our marathon as well.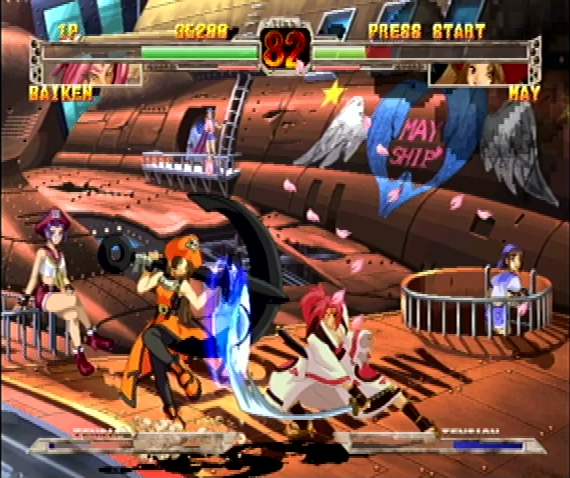 Next up, we'll chill and take a turn for the weird, as we try out a suggestion from the members of r/Dreamcast, Tokyo Bus Guide. The game is exactly what it says on the tin: a Japan-exclusive bus driving simulator, which is reportedly very unforgiving even for those who know the language. If there's anything about the Dreamcast all of us on the staff agree on, it's that we absolutely love some of the incredibly weird stuff on the system, like Pen Pen TriIceLon and Super Magnetic Neo, and Tokyo Bus Guide fits right into that niche.
After we've either successfully shuffled around the entire population of Tokyo, or we've broken a controller out of frustration, we'll be moving onto one of the most critically acclaimed titles on the system, Worms Armageddon. Worms was another heavily requested title from the community, and being a hype 4-player title, it'll be the perfect thing to fully wake us up as we head back to Tokyo for the next hour.
It just wouldn't be a proper Dreamcast Marathon without a spot of Jet Set Radio. JSR is very much the same deal as Sonic Adventure. It hasn't aged well mechanically, but it's one of the major pillars of the Dreamcast library, and even at its most frustrating, it's still a wonderful time for all involved.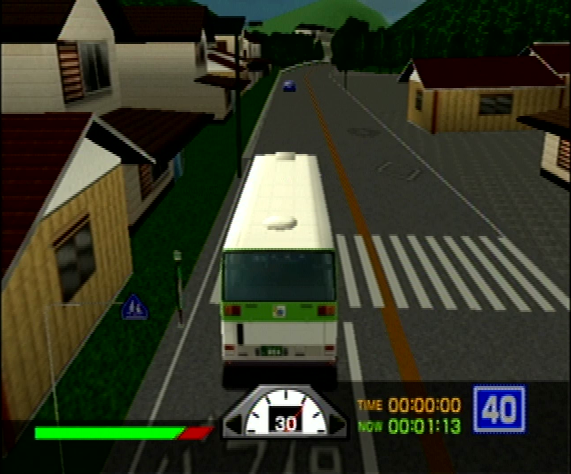 After we've painted the town red, green, and all sorts of other lovely colors, we'll dive back into an old favorite, Hydro Thunder. There's just something about jetski racing we love here at Sega Addicts. From Hydro Thunder, all the way up to the creators' newer Riptide GP series, these games always manage to be a great time, and personally, I can't wait to get in and crush everyone on NY Disaster again. We'll be following that up at 11:30am with yet another futuristic racing game, Trickstyle. From the by-today's-standards garish UI, to the EDM soundtrack and the gameplay that looks like the perfect lovechild of SSX and Wipeout, Trickstyle is one of the most glaring examples of year 2000 design available, and a perfect little time capsule.
Finally, we'll end Block #1 with a classic. In what we're calling the George Romero Tribute Hour, we'll be busting out one of both mine and Scotty's favorite games, Resident Evil 2. And since none of us are good enough to beat the main game in just an hour, Scotty has busted his tail unlocking Extreme Battle Mode, where we'll all take turns trying to see who can get the furthest out of all of us.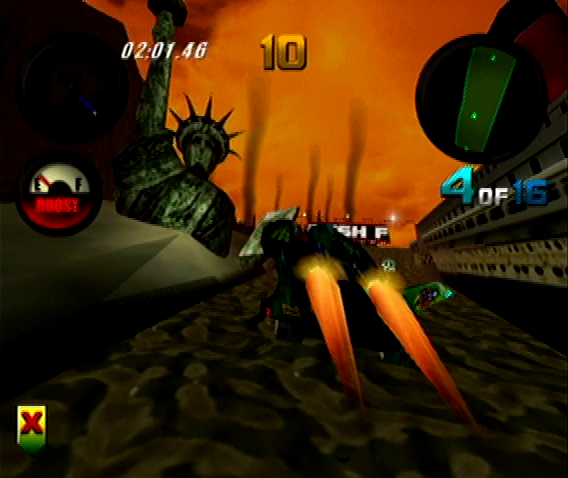 So there you have it. With everything from hedgehogs and graffiti to bus lessons and zombies, our first block is gonna be well worth waking up early for, which, you should be doing that anyways if you wanna win yourself a free Dreamcast courtesy of Warp Zone! Be sure to follow (or subscribe!) to our Twitch, and join our Discord to be eligible to win prizes as well, and don't forget we have our Extra Life page open right now, so you can help us help some kids out even before we go live at 7am on the 9th!
See you tomorrow for Block #2!