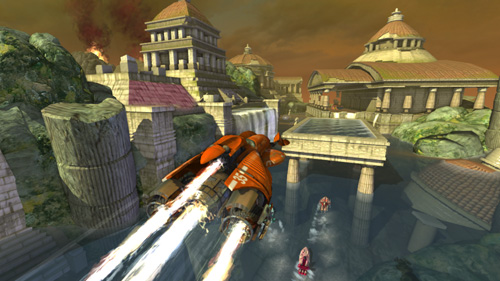 Vector Unit will be releasing the first DLC pack for their XBLA aquatic racing game, Hydro Thunder Hurricane, tomorrow. For 400 MS Points you will get:
3 new playable tracks — Atlantis, Castle Von Boom, and Bermuda Triangle

2 brand new Expert class Boats – Whiplash and Psyclone

5 retuned "X boats" — Expert class versions of the Pro and Novice boats from the base game

New skins for all new and existing boats

3 new Championships

New Gauntlet and Ring Master events

New Achievements and Gamerscore
There will also be a free "Multiplayer Only" update for players who don't have the cash for the DLC but want to play with people online who do. The free DLC will not be playable offline and will only allow players to join games from players who did purchase the DLC. As someone who really enjoyed the full game, I can't wait to give the new tracks a little spin. I wonder why they call it "Castle Von Boom"?