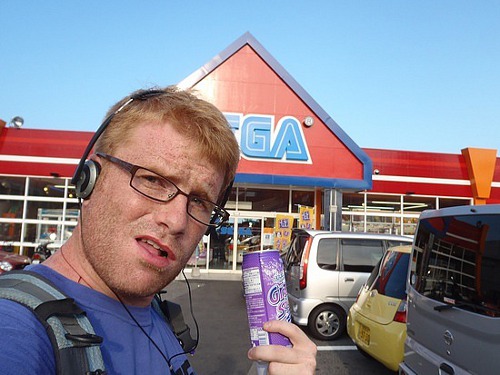 Hey guys what's up? It's time for that bit where I do the thing where I say what we were doing last week! The thing that involves videogames! The thing that you should read after the jump!
Yeah do that thing!
Stevie Grant- Writer of Top 10 Worst and Boss Attack:
I played (what did I play?).

Oh that's right I played some of the Scott Pilgrim game on XBLA. I have now completed it with every character. I'm such a dork. Also played some Sonic 2 for a thing I did about bosses. Still a classic all those years later. Except Metropolis Zone. Fuck that zone. Oh I also completed the first Professor Layton game. Go me!

Brett Hatfield- Community Manager and writer of Megadriving:
No difference from the past two weeks. Madden, NCAA, Smackdown, and BBCS. The last games far more than the others, as I've been getting into the story mode of BBCS finally, and using em as nice stress relievers. I need to get back into playing games for MegaDriving, though… I know you guys are TOTALLY missing that. Even more than your favorite dead relative, right? RIGHT?!
Alexander Sargeant- Writer of Retro Reviews:
I've been playing 'Everything is wrong with your Desktop PC'. A game I cannot win, and the BGM track is the F.O.E one about Etrian Odyssey, except with BSOD. After booting. After booting in Safe Mode. After booting into recovery menu, after memory tests, after changing RAM. It's idiotic.

Alien Soldier, because that game is brilliant. Splatterhouse, which is actually much better than I thought it'd be, and going into a fight with a man wielding two chainsaws with the words of encouragement; "Show him why they call it SPLATTERHOUSE" is fucking awesome.

Also Ghost Trick, which is totally rad. Phoenix Wright style characterisations, with great animation and some fun puzzletry to go along with it. That'll do for today I reckon, although I will also mention that Irish Creme Liquor Magnums are an incredible ice-cream.
Andrew Galbraith- Writer of Contemporary Alternatives and Miscoded Confidence:
Been playing the 'full time employment' game complete with the 'overtime' expansion pack – so while I'm torn between playing video games and paying the bills, I've sadly had to lean towards the latter for the time being. Thankfully, I had a bit of time to play a bit of EVE and a slice more of Dead Space amongst getting through Ghost Trick for review earlier this week. Otherwise, it's been nothing but slaving away in the acid mines under the watchful eye of the vengeful, giant eagles.
Josh Newey- Writer of With Great Power Comes Great Games and Underappreciated Gems:
When I was buried under 30″ of snow last Wednesday, I opted to download Sonic Adventure HD and play a couple acts. I assumed that I would tire of it after a few minutes, seeing as how everyone likes to claim "RETROGOGGLES!!" whenever somebody else defends Sonic's first game on the Dreamcast. Despite admittedly awful camera issues and clunky control, I played through Sonic's entire campaign in one sitting. I wasn't expecting to enjoy it so much after all these years.

I also played a little bit of Gunstar Heroes after Mr. Sargeant's lovely review. As delightful as it ever was. That's the whole of it, really.
Tom Kyzivat- Artist and Podcast Co-host:
Still plugging away on Jet Set Radio Future. It's in the less appealing part where you go back to all the levels you did already to re-tag them, which I'm not crazy about. I've also been watching Mike play Darksiders, which is a pretty cool game. The character designs remind me of Spawn figures, which gives me a warm, fuzzy feeling inside.
Alex Riggen- Editor in Chief and Podcast Host:
I played through the first Uncharted game this week and enjoyed it quite a bit. The game did focus on combat a little too much but I'm looking forward to playing the sequel which I hear fixes many of the first game's faults.

I also started playing The Witcher on PC. I didn't really get into the game at first but the more I play the more I like the game. Combat is a little janky but this is one of the best fantasy RPGs I've played in awhile. I'm looking forward to seeing what thy do with the sequel.
Oh ho ho ho ho! Those wacky chaps, playing those games! Are the games you played as wacky? Why not do a telling of them to me (that is tell me, in the comments) and I'll see you next week for the exact same thing! Have a nice whatever!