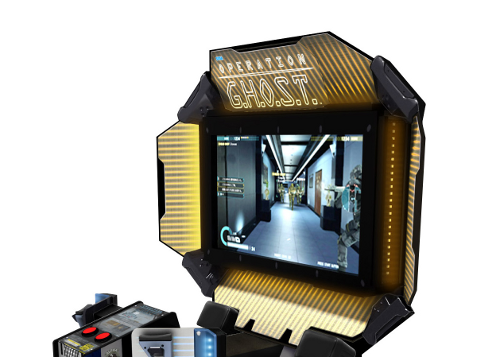 Well here's something I don't get to type everyday. A new Sega arcade game is coming out! To the West! Yeah, told you it was specail. The game in question is called Operation G.H.O.S.T. and is a sequel to the previous arcade shooter Ghost Squad.
Here's the quote taken directly from the game's page at Sega Amusements:
Sega's realistic tactical light gun shooter is back and this time it is set in the future! It's 2035 and the war against terrorism continues. The terrorist network known as Blue Wolf is on the rise and they have seized Uranium in an attempt to build their own nuclear weapons. Liberalists form a task force to exterminate the Blue Wolf, reclaim the uranium and stop a nuclear disaster! That task force is called G.H.O.S.T. (Global Humanitarian Operations & Special Tactics)

Operation Ghost puts players in the shoes of highly trained special force agents. They must use precision shooting and quick reactions to complete the mission whilst using some of the brand new tools at their disposal! As well as new weapons, gadgets and equipment, Operation Ghost features a multi-coloured LED monitor surround. This feature enables; extended off-screen targeting, enemy approach direction indication and provides a game play experience that has never been seen before.
Sounds quite awesome though. No date on it's release but you can expect it in your local arcade sometime soon.
[Source: Arcade Heroes]