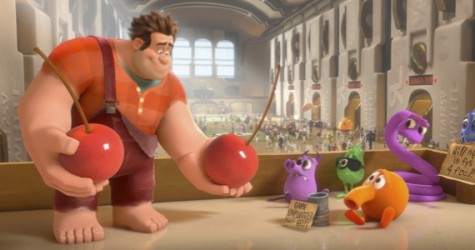 Sega may have unveiled the baffling inclusion of NASCAR Danica Patrick as their big crossover reveal back at E3, but apparently that wasn't the only cross-media marketing idea the publisher had up its sleeve…
During this weekend's Sonic Boom event, Rich Moore, director of Disney's upcoming videogame film Wreck-It Ralph, revealed that the title character would be added to the roster for Sega's mash-up racing sequel.
As you might expect, the crossover doesn't end there either. Mirroring Sonic's appearance on Danica Patrick's real-life car, this promotion will swing both ways, with Sonic making a special appearance in the film to deliver a PSA warning characters not to die in a game that isn't their own.
While part of me laments another non-Sega character being transparently shoe-horned in for the sake of a few extra bucks, I have to admit that I admire Disney's attempts to authenticate this character. The film's cameos alone have the videogaming community abuzz, and while I think a Sonic appearance was pretty much assumed, I'm glad to know that his corner of gaming is getting a tip of the hat. Now, that being said, I really really hope the cross-promotions for All Stars Racing Transformed stop here. Exploiting the conceit of a mash-up racer by forcing in extraneous irrelevant characters for extra cash/exposure really devalues the rest of the company's incredible roster, and while I don't want to sound hyperbolic, it kind of kills the sense of tribute that empowers these types of games. Please Sega, stop it.
Who's revved for a sequel with Lady Gaga, Bilbo Baggins, and Elmo? Actually, I kinda wanna play that now.
[Source: Sonic Stadium]