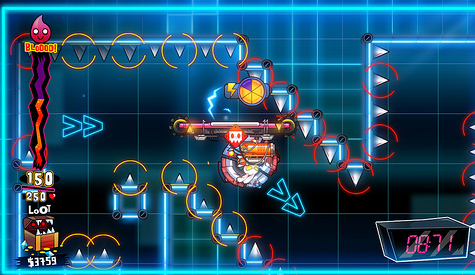 Everyone's favourite dead bunny rabbit will be receiving a whole bunch of crazy Sega themed stuff to play with in newly announced Hell Yeah! Wrath of the Dead Rabbit "Pimp My Rabbit" DLC. The pack includes 50 new masks and 11 driller skins with the promise by Sega of appearances by Jet Set Radio, Super Monkey Ball and Crazy Taxi characters in some form or another.
As if this wasn't enough, another pack titled "The Virtual Rabbit Missions" includes over 50 new challenge missions which total to over three hours of gameplay.
The "Pimp My Rabbit" and "The Virtual Rabbit Missions" DLC will be hitting XBLA, PSN and PC on October 23rd in North America and October 24th in Europe. The full press release can be found after the jump.
[Source: Joystiq]
MEDIA ADVISORY: Blazing Hot Downloadable Content Available This Autumn for Hell Yeah!

SAN FRANCISCO & LONDON – October 11, 2012 – SEGA®of America Inc. and SEGA® Europe Ltd. are wickedly excited to announce Hell Yeah! Wrath of the Dead Rabbit™! downloadable content will be available on October 23 in North America and October 24 in Europe from Xbox LIVE® Arcade for the Xbox 360® video game and entertainment system from Microsoft, PlayStation®Network and PC Digital Download.

For Ash, the Prince of Hell, vengeance is neither short nor sweet. If you're going to kill, you want to look hot doing it and take your time over your options. With over 50 masks for Ash and 11 driller skins available for his deadly jet pack driller, you can create hell in style using the Pimp My Rabbit pack for $2.99 /240MSP /£1.99 /€2.49 /AUD$4.25. Keep your eyes peeled for some classic SEGA franchise and characters making an appearance such as Jet Set Radio™, Super Monkey Ball™ and Crazy Taxi™.

Hold on; you thought that was it? You're wrong. Test how hot your shooting and speed-running skills are in 50 thrilling challenges adding over three hours of gameplay with the The Virtual Rabbit Missions for $4.99 /400MSP /£3.69 / €4.49 /AUD$7.75. Only the mightiest rabbit can survive!

For press assets please visit www.sega-press.com. For more news, follow SEGA on Twitter @SEGA or "like" us on Facebook.