Sega were a big player in the home console markets of the 80's and 90's, and many of our fond memories of retro consoles such as the Mega Drive/ Genesis and the Master System are the same ones that keep us gaming today. But even the most die-hard Sega fan may draw a blank when you ask them about Sega's very first, Japan-only home console, the SG-1000.
One mad development band Martijn Wenting of Revival Studios aims to give the early little console some much needed love with Astrododge, the first physical release of an SG-1000 in approximately 30 years. Martijn took some time off his busy schedule to answer some of our questions about the console, the game, and the passion that brought his ambitious project to fruition. Check it out after the jump.
Tell us a little about yourself and what do you do.

My name is Martijn , I live in the Netherlands and I am a developer of games for classic gaming systems. My daytime job consists of teaching game development at school. Beside classic game development I also collect video games.

How long have you been developing games, homebrew or otherwise?

I have been developing games since I was 8 years old and enjoying it ever since. I have developed commercial games for the Nintendo GameBoy, GameBoy Advance and first generation mobile phones for work and now I am working on various classic game systems as a hobby.

Did you ever spend time developing retail games for Sega consoles?

Not really, although we did have a project in the pipeline for the Sega Dreamcast at some point, but it never evolved. I hope do to a homebrew game for the Sega Dreamcast in the future though.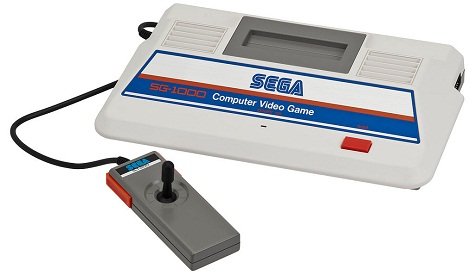 For the readers who aren't familiar with Sega's earliest console, the SG-1000, and it's home computer version, the SC-3000, could you give some background information on them?

The Sega SG-1000 was Sega's first home console with exchangeable cartridges. With its Z80 core it was easier for Sega to convert some its early games to this platform. There were two versions released of the console and the Japanese version of the Master System (Sega Mark III) is able to run SG-1000 games as well.

The Sega SC-3000 was Sega's attempt to enter the flourishing home computer market. It is basically a SG-1000 with a keyboard and cassette interface, but it is also compatible with the original SG-1000 cartridges.

Astrododge works on both the Sega SG-1000 and Sega SC-3000. Additionally, a version of the game will be released on cassette tape for the Sega SC-3000 specifically.

How did you originally discover the SG-1000, and how did you come to acquire one of your very own?

I would have loved to share an anecdote about my playing this system as a kid, but the truth is that the Sega SG-1000 was one of those system I discovered later in life when I was already collecting for a few years. I really liked the shape of the system and the games for it. It has been only been recently I have been able to acquire a Sega SC-3000.

What is is about the SG-1000 that draws you to play and develop for it?

The Sega SG-1000 has some great games going for it. Games like Flicky are still relevant and fun to play today. The architecture of the system is quite similar to the Colecovision that I also develop for, so the step wasn't too big, but of course the Sega SG-1000 has much better controllers!

Your upcoming game Astrododge is notable for being the first physical release of an SG-1000 game for approximately 30 years. What reasons do you think may have kept homebrew development from flourishing on the SG-1000 like it has on many other older consoles?

I think the market for SG-1000 is pretty small, as the SG-1000 has never been a mainstream console in western countries. Therefore, basically everything from the circuit boards to the cartridge cases to the game box has to be reinvented from scratch.
Focusing on the game itself, what can we expect from Astrododge in terms of gameplay?

In Astrododge, you control your ship and have to avoid the rogue asteroids for as long as possible. A point is rewarded for each asteroid that is dodged successfully. Picking up the bonus pickups will gain you massive points. Highscores can be uploaded to the internet so you can compare you score worldwide. Additionally there are tasks you can perform that will unlock rewards in the game. These rewards can also be synced on the internet so you don't have to unlock them all in one session.

The game offers a single player mode as well as a 2-player versus mode. The latter is especially fun to play with a friend (or foe) as you both battle for the special pickups which zoom dangerously close by the asteroids on screen!

Were you able to do things with Astrododge now that would have been unseen 30 years ago?

I like to think I made good use of the graphical capabilities of the Sega SG-1000 and of course the online functionality.

The ability to transfer scores and rewards to online leaderboards is particularly innovative. What prompted you to do this, and has it proved successful with your previous releases?

With each game I develop, I try to bring something unique to the system that hasn't been attempted before. The online functionality is one of those things you don't see a lot in homebrews and I think it definitely adds replay value to the game.

As mentioned earlier, Astrododge will get a physical release, what does this release include?

The release includes an original style black/yellow carton box, a game manual, box insert and the game cartridge.

What difficulties did you encounter when producing the components of the physical release?

Enough. Like you said it hasn't been attempted before and for a good reason. It took about a year to get all the different components involved in the whole physical production.
Astrododge will have a follow up released for the home computer version of the SG-1000, the SC-3000. How do the two versions differ, and will the SC-3000 version utilise any features specific to that machine?

For the Sega SC-3000 tape version, there is less memory available for the program-code, but I am trying to keep the game as intact as possible.

You've travelled across Europe to promote Astrododge and your other works. What are people's reaction to a new SG-1000 game?

I have been surprised about the number of closet SG-1000 owners here in Europe! I guess there are still a lot of people that like the system, if only for its place in history.

What is the SG-1000/SC-3000 'scene' in the Netherlands, and how far does this extend across Europe?

I don't expect it to be too large, but like I said before I was surprised by the number of people coming up to me, telling me they own the system.

Have you any interesting stories from your travels that you'd like to share?

It is always nice to meet new people at retro events. Unfortunately there isn't always enough time to talk to everyone, but I am trying to do my best.

Where can our readers find you in the coming months?

For starters, I hope to be able to take some time off at the end of the year to do absolutely NOTHING and recharge for the next year 😉 Events for next year aren't planned out yet, so it is best to check my Twitter or my website for updates.
What can we expect from Revival Studios in the future?

I intend to release more games for Sega consoles in 2013 and beyond. Beside the SG-1000 I am looking intro the Sega Dreamcast and Gamegear as well. Besides Sega, I will be covering lots of other systems as well (Atari, commodore, Coleco, Videopac / Odyssey2, Vectrex, etc.).

When will Astrododge be released and where can it be purchased?

Astrododge is available for preorder now, please see my website for more information. There are only 50 copies produced, so best to hurry. I expect to be shipping the first copies after Christmas.

Where can our readers find more information about Revival Studios and your upcoming works?

For anyone that is interested, they can best check out my website at: www.revival-studios.com. Additionally, they can follow my day to day efforts on twitter (@revival_studios).
Many thanks to Martijn for taking the time to answer our questions, and it's hoped that Astrododge proves successful as well as his future projects, Sega or otherwise. For those interested, copies of Astrododge can be reserved via his site for €49, with shipping priced at €8 within Europe and €12 worldwide.