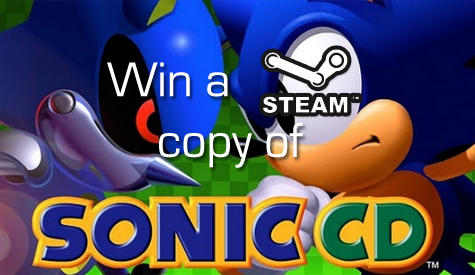 A huge thanks to reader, REZ, for sending us a copy of Sonic CD for Steam to give away on the site!
To enter the contest all you need to do is post comments on the site and/or in the forum from now until March 10th. At the end, we'll draw a winner at random, however, you do have some control as the more comments you leave the more chances you have to be drawn.
Hit the jump to find out more information on how the winner is determined.
How to enter:
It's simple really. All of the comments left on any post on the site or in the forum will be totaled up. Every comment you leave gives you one chance to be drawn as the winner of that contest's prize. So, the more commenting you do the better chance you have to win, but you do have a small chance of winning even if you only leave one comment that period.
Comments that are not relevant to a post will not count. They also have to have substance. Just saying "Awesome" on every post will get you nowhere, son. As long as you're praising the author for a job well done, asking a question, adding some information, or even debating against one of the author's points, your comment will count.
At the end of every period the comments will reset. Even if you left a bunch in the past, you'll have no entries unless you leave more in the new contest period.