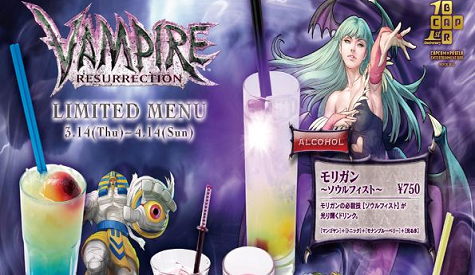 Darkstalkers Resurrection will be getting an update on Friday April 12th which will add new fight request features to arcade and training modes, and also patches a number of bug fixes including replay upload issues. The game collection is available on XBLA and PSN and features the two classic Capcom fighters, Night Warriors: Darkstalkers' Revenge and Darkstalkers 3, both of which were originally available on the Sega Saturn.
The update announcement was made by Capcom producer Tomoaki Ayano via the Capcom Unity blog. He also announced a new Darkstalkers themed menu available at the Capcom Bar in Shinjuku, Tokyo until April 14th. Check out the menu after the jump!
[Source: Siliconera]
Morrigan Soul Fist

A sweet and easy-to-drink alcoholic beverage.

It might be hard to see in the photo, but the ice cubes in the glass are actually glowing!

Anakaris Ouke no Sabaki

A non-alcoholic cocktail that tastes of pineapple.

Here you can see the giant eyeball from Anakaris's palm floating in the middle of the drink! (Okay, it's just ice…but play along!)

Victor Thunder Break

A vodka tonic cocktail with blue curaçao and watapachi popping candy floss.

This cocktail also comes with glowing ice cubes and radiates as if electrified.

Bishamon Bloodthirsty Sword "Kien Zan"

A non-alcoholic beverage that's both sweet and sour.

This drink isn't too sweet, so it's easy to drink. Just watch out though, because the cocktail stirrer is actually the bloodthirsty sword of Bishamon!

Hsien-Ko Anki Chili Sauce

Slightly spicy shu-mai dumplings.

The seasoning on this is great and makes for a delicious dish!

B.B. Hood Cool Hunting Milk

This dessert perfectly captures the cuteness of B.B. Hood!