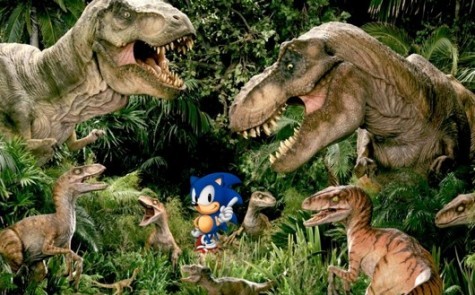 Sega has been quite the busy bee as of late, giving us plenty of new information regarding their upcoming Nintendo exclusive Sonic: Lost World. But of course, being the needy children that we are, Sega fans are all clamoring for more news regarding the other big Sonic exclusives that remain shrouded in mystery.
The latest morsel comes from a German press release for Lost World. Plenty of details for Sonic's latest outing are discussed, including off-TV play and a Miiverse feature for the Wii U game, and exclusive special stages that use the Motion Sensor on the 3DS. Most intriguing is the sentence "Alle drei Spiele erscheinen noch in diesem Jahr," which translates to "All three games appear in this year." Could this mean that the third Sonic exclusive, which has yet to be named, will also be coming to us in 2013?
This news should be taken with a huge grain of salt, as the word "erscheinen" could mean "release" or "appear" in certain contexts, and in this press release it's just too close to call. Whatever the case, it looks like we'll at least learn something of this mysterious game in the coming months.
Hit the jump to see the English language version of the press release in its entirety.
[Source: Spindash]
When the Deadly Six threaten to destroy his world, Sonic's new moves and power-ups are the only way to defeat them before it's too late!
In his latest plot to defeat Sonic and rule the world, Dr. Eggman has harnessed the power of six menacing creatures known as the Deadly Six. However, when the Deadly Six rise up against their new master, Sonic must unite with his arch nemesis Eggman and explore the mystical Lost Hex in order to take them on head-to-head. Use Sonic's amazing new moves and incredible Color Powers to speed across a variety of unique terrains, racing inside, outside and upside down in every level.
NEW MOVES
Sonic moves like never before. Vault over obstacles, free run up and along walls, and sky dive between islands at lightning speed. Plus the Spin Dash is back!
COLOR POWERS
New and improved Color Powers. Sonic can now fly through the air, tear up levels and explode into enemies. He's more powerful than ever!
NEW WORLD
Speed through a variety of exhilarating levels. Explore massive mind-bending courses, vast underground tunnels and colossal structures in the sky as you run inside, outside and upside down.
BOSS BATTLES
Save the world one fight at a time. Take on each of the devious Deadly Six in dynamic boss battles which test all of Sonic's moves and power-ups.
MULTIPLAYER
Race friends in high speed multiplayer races. Take them down across a range of ultra-competitive levels and modes – it's the ultimate supersonic showdown!
Wii U EXCLUSIVE FEATURES:
Wield the Wii U GamePad to execute exclusive Color Powers – tilt, touch, aim and more.
Someone wants to watch TV? No problem! Play the full game using only the Wii U GamePad screen.
Share and charge up items by sending them into the Miiverse to share with players around the world.
Play together. Have a friend pilot radio controlled gadgets to help Sonic by destroying enemies and obstacles.
Race against a friend as you play on the Wii U GamePad screen and they play on the TV.
NINTENDO 3DS EXCLUSIVE FEATURES:
The first handheld Sonic game ever to feature fully realized 3D levels.
Unleash Color Powers exclusive to the Nintendo 3DS version.
Exclusive Special Stages! Tilt using the Motion Sensor to navigate hair-raising levels and obtain the elusive Chaos Emeralds.
Create and customize radio controlled gadgets to help Sonic.
Race against friends through local and online game modes.
PLUS: Share your gadgets between the Wii U and Nintendo 3DS versions.