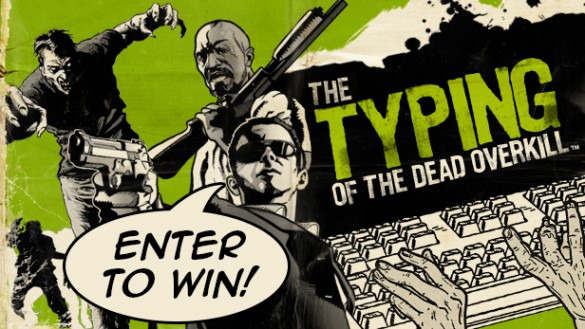 Excited about Typing of the Dead: Overkill's surprise release, but don't feel like dropping $20 bucks on it right out of the gate? Well, good news! We've been given two Steam codes for the game to give away to you lovely people. So to commemorate not just the release of the game, but also our redesign, we're running two contests at the same time for the codes!
For the first contest, your task is to create another "Typing" spinoff for a Sega franchise. For example, a Sonic game where you have to type a word to clear large gaps? Or, a Shenmue spinoff where you type in the names of your attacks? The possibilities are endless. Simply mock up a screenshot, and post it, along with an explanation of how the typing mechanics would work and how they would fit in your game's storyline, in the comments of this entry, and you're entered.
The second contest is basically the reverse of the first. This time, your task is to pitch us another completely-out-there "____ of the Dead" spinoff, which would replace "Typing" with any other sort of ridiculous or mundane activity. Just post the title of your game, describe the ridiculously expensive, useless-for-practically-any-other-game controller it'd come with, how the activity fits into gameplay and storyline, and then give us your most kickass tagline, and you're entered.
This contest will end on November 20th, and if you'd like to enter both contests to have a better chance of winning, you can! The winners will be determined by a staff vote, and will be notified by email with their shiny new Steam codes.
So, good luck, and have fun. We can't wait to see what you fine folks come up with.