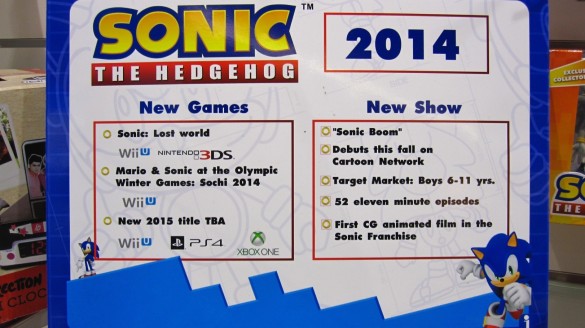 Those wondering about the future of the Sonic franchise don't have much longer to wait, apparently. Sonic Retro posted this image of a sign that Jazwares, current manufacturers of Sonic toys, put up at last week's Nuremberg Toy Fair. The sign not only talks about the upcoming Sonic Boom cartoon debuting this fall, revealing the episode count, target demographics, and revealing that it will be a CG show (how fitting, considering we talked at length about a CG Sonic show/film two weeks ago on After Hours), but also mentions a new to-be-announced title for the Wii U, PS4, and XBox One to be launched next year.
While it's not an official word from Sega themselves, the time for speculation has begun. Will it be in the same vein as the Hedgehog Engine Trilogy that was so successful in the past? Will it take inspiration from last year's lackluster Lost World? What happened to the third Nintendo exclusive title? And most importantly, when will we get an official announcement?
Stay tuned, folks, and let us know what you think in the comments!
Source: Sonic Retro