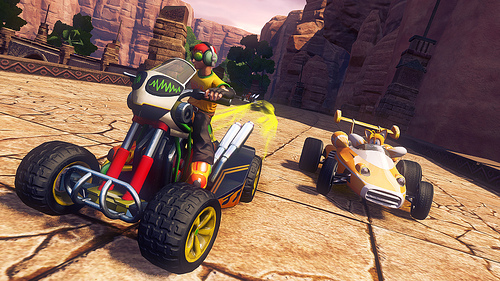 It may be hard to believe, but some people in the world have not yet experienced the amazing insanity of Sonic & All-Stars Racing: Transformed. Well, Sega is about to rectify that. On May 15th, 2014, Japan will get Sonic Transformed on PS3 and Wii U.
It's not incredibly odd that the Xbox 360 is not receiving a version since it seems to be the least popular console in the land of the rising sun. Interesting to note is whether or not any DLC characters who have seen life on the PC version will make an appearance on these console versions – more specifically if Hatsune Miku will make the cut in her homeland.
In a recent interview with Steve Lycett of Sumo Digital at Sega Nerds, Lycett did mention that some weapons and items may have a different aesthetic than previously seen. Most notably: the blowfish weapon. It will be fun to see what he was hinting towards.
Over all, it's great to hear that more parts of the world are going to get to experience what I believe to be one of the best games Sega has put out this generation.
[Source: Sega Bits]