We're now officially less than two days from kicking off the Dreamless Dreamcast Marathon. It's hard to believe that after all this waiting and plotting, the day I depart for Pittsburgh is finally here. In about 9 hours from now, I'll be meeting up with Scotty, Tom, and AJ to begin our grand trek back to Sega Addicts HQ, likely filled with wormholes, Reel Big Fish karaoke, and merriment.
But for now, let's kill some time by going over the third quarter of our schedule, shall we?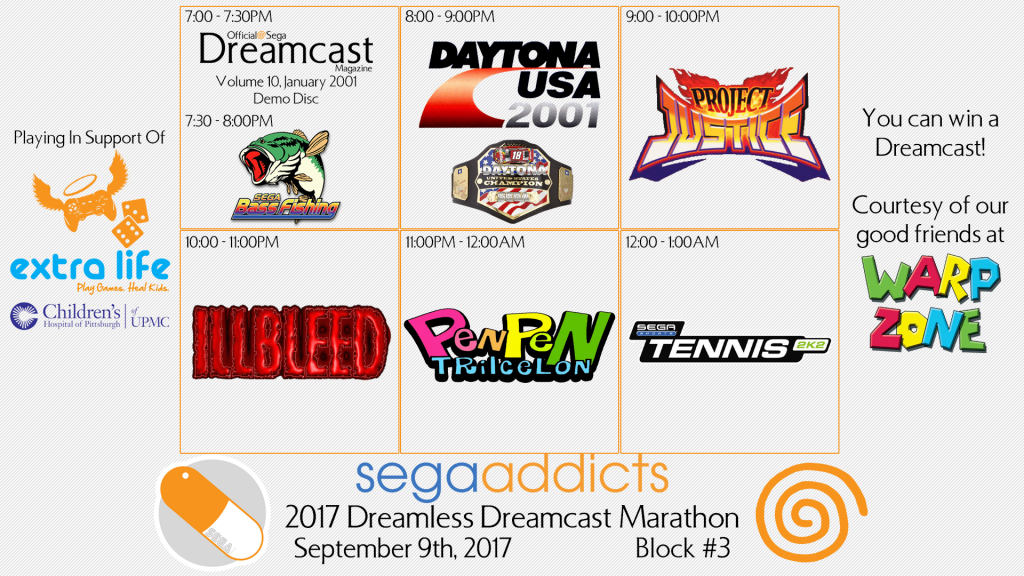 We'll be kicking things off with something a little different than usual, a demo disc. Personally speaking, the demo disc, alongside actually having games ready to go without a need for patches on their launch day, is the most depressing casualty of content delivery trending more towards digital distribution. There were few things more exciting than getting a a bonus disc with a magazine, or even getting the Playstation Jampacks, and discovering all sorts of things you'd never even heard of before.
This particular disc is the January 2001 Official Dreamcast Magazine disc, featuring Sega Marine Fishing, F335 Challenge, Rainbow Six Rogue Spear, Speed Devils, and last but not least, the Toy Commander Holiday Mission, which was only available on this specific disc in the US. After that, we'll break out the fishing controllers and hit the lake for a little Sega Bass Fishing. We recently covered SBF on an episode of the podcast, and we all agreed it was a pretty great title, so it should be a lot of fun trying to see who can land the biggest fish out of all of us.
Then, at 8pm… Revenge. Maybe. The Daytona United States Championship will be on the line in a double elimination tournament, and personally speaking, this is the part of the Marathon I've spent the past year training for. I was embarrassed in the 2016 Marathon, my lack of sleep leading to several costly mistakes, and losing MY title to the nefarious Scotty Mo, but it won't happen again. That belt is coming back to West Virginia with me!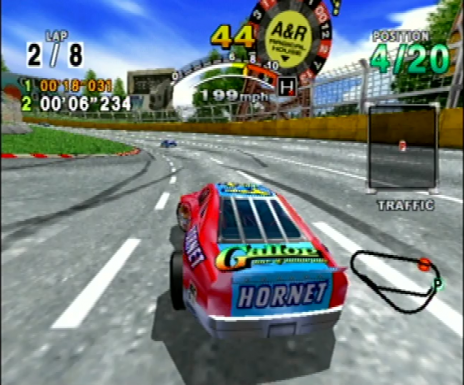 Whoooops, sorry about that folks, my inner pro wrestler got a hold of me there. The tournament shenanigans don't end with Daytona, though. The Flocky Cup is on the line as we pop in Project Justice at 9pm. It's been a staple in our marathon since 2014, as well as one of the most requested Capcom games to be ported or remade for current gen systems, and with damn good reason. From a time period you could easily argue was Capcom's golden age, Project Justice makes a compelling case for being the best fighter, certainly the most unique as well, of their roster. The tournament mode is always a great so, so you don't wanna miss it. Just, watch out for flying tennis balls. We're all Momo mains here.
After the hype of two tournaments, you'd think we'd want to chill for a little bit, right? Wrong, there's no rest for the wicked here, as we dive into the final console game for Climax Graphics/Crazy Games, Illbleed. When you talk about obscure gems on the Dreamcast, Illbleed is usually one of the first things brought up, usually for it's campy atmosphere and unique gameplay mechanics, like its trap detection and fear gauge. If you're into super campy horror, this is the segment for you.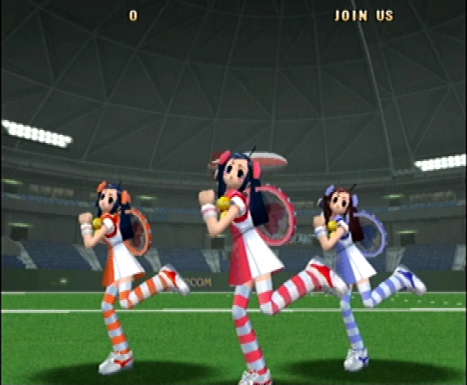 And speaking of weird and campy, 11pm brings us the surprise hit of the Marathon the last few years, Pen Pen TriIceLon. Pen Pen was the black sheep of Dreamcast launch titles, but it's the exact kind of launch title I miss nowadays. The world needs less remasters of the previous generation's games, and more Pen Pens! But I digress. Last year, we decided to run Pen Pen much later in the Marathon as just a game to help keep us awake, but the reaction we got to it even that late in the night was so great, we had to move it earlier this year, just so we can get more eyeballs on this extremely fun, extremely unique racer.
Finally, we'll hit the midnight hour with the same game we hit midnight with last year, Sega Sports Tennis 2K2. Tennis 2K2 is a perfect 4-player title, and one of the best things to help keep us going as we speed towards the final stretch of the Marathon.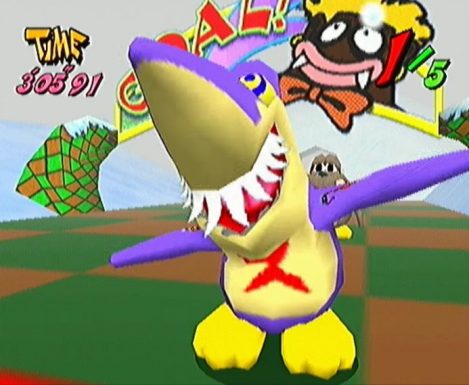 And that's Block #3 in the books! With a horror game and lots of competitive action, including two tournaments, this could end up being our most hype block of the night! Make sure you're subscribed to our Twitch so you don't miss a minute, and join our Discord to be eligible for prizes, including a full Dreamcast system for the person who stays active with us the longest! And don't forget, our Extra Life page is ready to roll as well! Help us help some kids out, won't you?
Check back here tomorrow as we report in from the site of the Marathon to talk about the final block!