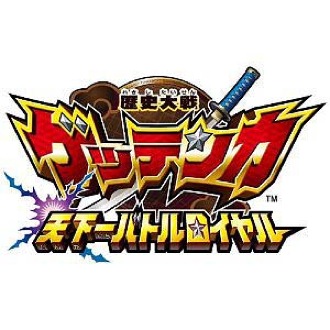 So Sega just finished it's livestream, which was pretty much just trailers.  However, one game really caught my eye.  No not Yakuza Zombie Chaingun Arm Of The End, but a game I thought was called Cute Samurai Smash Bros.  SO CUTE!!!
Anyway, I went on a tear looking for info.  I tracked down the website www.gettenka.com through sega.jp (JOURNALISMS!!!).  There I found mostly facts about an arcade card game I think.  Hey, it was all in Japanese!  But, I found another side called http://gettenka.com/ds/index.html which is basically just a flyer for the game.  I tried to save and download what I thought was a PDF so I could post it here.  But somehow I TRANSLATED IT!!!  SERIOUSLY!!  I love computers.  This is what we've got so far.
Hit the jump for the translated text.
A Battle Royal history world war [Gettenka official has sites

Scoop shock! Released in November! Battle against four Gettenka DS version!

It's called "A battle royal world!"

Gettenka how I found the DS to appear! Moreover, it appeared in the Warring States Battle Action Battle Royal in which four people play! For details, follow-up wait!

"Ryoma Sunrise" card

Ryoma Gettenkabatoru fought him! ? Never take a break and get booking!

Reservations being praised!

Genre

Action game

Play Hard

Nintendo DS

Players

4 players

Availability

Expected to release in November
Note: Images are in development.
Note: Benefits are subject to availability. Please confirm whether the Book Award stores
Note: The Nintendo DS is a registered trademark of Nintendo
Sega
Product Information

Title

A battle royal world war history Gettenka

Models for

Nintendo DS

Release Date

Expected Release November 25, 2010

Price

5,040 yen (tax included)

Genre

Sengoku Battle Action

Players

1 to 4

Other

Wireless game, Download Play

CERO notation

Plan review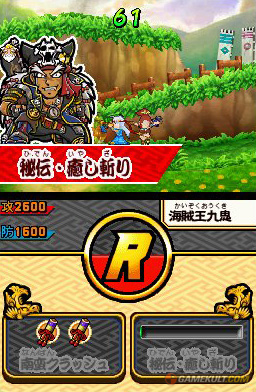 Please let this come the North America!  I want little Samurais to fight!  Seeming that its a download game based off a Japanese arcade card game (from what I can tell), it's a rather lofty dream.   BUT DREAMS CAN COME TRUE!!!!
Right?
[Source:
]