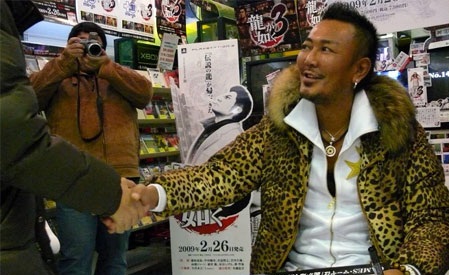 Firstly, you really need to check out Andriasang's 'Flying Get' each week, as it never ceases to bring some incredible news stories out into the open each week. Officially I think they're regarded as 'rumours' until publication, but they're a pretty damn trustworthy source.
This week's Famitsu Flying Get revealed that there will be an interview with sharply dressed Toshihiro Nagoshi about a brand new IP he's been cooking up apparently since Yakuza 3 was still in the making. Binary Domain is a futuristic sci-fi title being developed by the same team responsible for Nagoshi's Yakuza series as well. It's targeting at a global audience, which is in stark contrast to the Yakuza series that traditionally have had localisation issues because they were allegedly too focussed around Japanese culture.
The game will take place in Tokyo in the year 2080, where the city has been split between the poor and the wealthy, and a constant battle between men and machines rages on. Nothing more specific has been divulged at this time, but it's clear that the machines were deeply embedded in human society before the battle began. No gameplay details have emerged (It's like Catherine all over again at this point), but the focus of development time has been researching AI, and Nagoshi apparently desires to make some of the smartest enemy AI in the world. This is kind of a lot to take in from a man who is right now also working on a game featuring zombies, as I couldn't imagine a greater disparity in enemy intelligence, but I'm interested at the very least.
The game will be officially revealed on December 1st 17.00 JST, and Sega will be hosting the very first trailer on the official site, so be sure to check back with us then!
[Source: Andriasang]