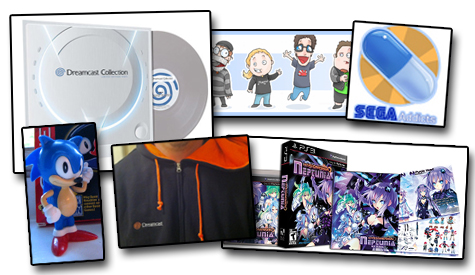 UPDATE: The contest has expanded once again. Sega has just donated 3 Dreamcast hoodies to the Sega Addicts giveaway so look below to see the updated prize list! By the way, the Dreamcast hoodies look amazing.
As announced on this week's episode of the Sega Addicts Podcast we have a lot of goodies to giveaway in celebration of our upcoming 50th episode! Not only have both Sega and Nippon Ichi graciously donated some items but we're also giving away some Sega Addicts related stuff of our own.
The prizes are:
First place: Hyperdimension Neptunia Premium Edition & a copy of the Dreamcast Collection Limited Edition Vinyl
Second place: A copy of the Dreamcast Collection for 360 as well as the Dreamcast Collection Limited Edition Vinyl
Third place: 3 winners will receive a Dreamcast hoodie.
Fourth place: Sonic the Hedgehog Gumball Dispenser Thing 2-Pack. This was found in Tom and Mike's closet and may be over 20 years old! An image of the dispenser can be seen above and it stands about 3-4″ high. The prize you will receive is actually a 2-pack of the dispensers still in the packaging. Once received if you videotape yourself eating one of the gumballs we may send an extra bonus prize. Oh yeah, we'll also throw in a Sega Addicts t-shirt for this winner and a poster of yourself drawn in the Sega Addicts style by Tom!
Fifth place: 3 winners will receive a poster of themselves drawn by Tom in the Sega Addicts style.
Sixth place: 3 winners will receive a Sega Addicts t-shirt.
That's a lot of chances to win isn't it? Maybe you'd like to know how to enter? Just hit the jump to find out.
How to enter:
Tom has done an amazing job doing the header images for every single episode so far but he told me that he is sick and tired of it and refuses to do any past episode 49. He may seem like a nice guy on the podcast but he's actually extremely stubborn and hard to deal with.
It's not all bad news though because this gives us a reason to hold this contest! We need you to design/create our 50th header image! The only rules are that it has to be 500 pixels wide and it has to include the words "Sega Addicts Podcast" and refer to it being the 50th episode. Otherwise, you're free to do what you want. Our usual header images are 275 pixels high but you can do whatever you want depending on your ideas.
After you've created your entry just post a link in the comments below and you've officially entered. The final date for entries is March 9th so get to it fellas!