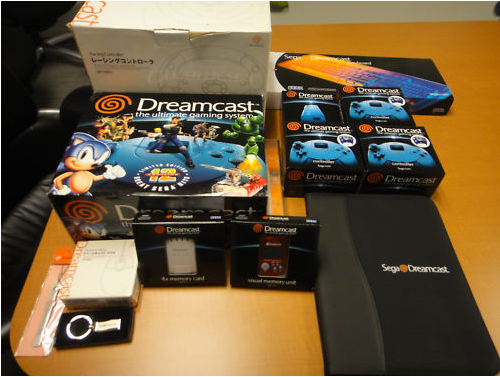 As part of the Play for Japan campaign Sega has been auctioning off things to help raise money. This time around they have a really amazing Dreamcast package. It includes:
SEGA Dreamcast Console – Limited Edition (NEW)
SEGA Dreamcast Broadband Adapter (NEW, RARE!)
SEGA Dreamcast – 3 Additional Controllers (NEW, Blue!)
Dreamcast VMU – Red (NEW)
Dreamcast – 4x Memory Card  (NEW)
Dreamcast Keyboard (NEW)
Dreamcast Mouse (NEW, Japanese)
Dreamcast Racing Wheel (Used, Japanese)
VMU Belt strap (NEW, only given out in Japan!)
Dreamcast Promo Watch (NEW, only from Japan!)
Dreamcast Keychain (NEW, still in original box!
It makes me so happy to see Sega working together with fans to make a difference in Japan. Happy bidding!
[Source: Ebay]