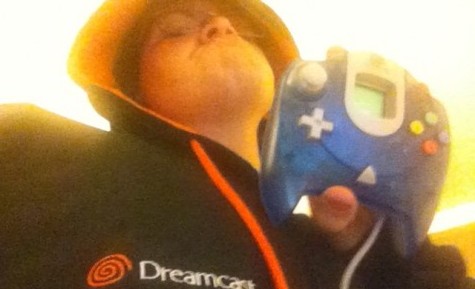 Well, here we go again.
Does anybody remember this odd little torture parade that I threw together earlier this year? You know, the one where I played some games for 24 hours to celebrate the birthday of a certain badical quilled mammal? No? Eh, me neither. I'm fairly certain that playing Sonic Shuffle did some substantial damage to my short and/or long term memory, so yeah, I forget.
Anyway, I'm at it again. When will this moron ever learn, amirite?
But wait! This time, I will be joined by none other than Kids Table co-star and fellow Dreamcast fuck-buddy John Doherty! John will be joining me a few hours in, and will cover for me a bit tomorrow when I have to work for a couple hours (I know, it's not a true consecutive 24 hours… I guess I'm a liar. I don't have a choice though, people. Forgive me.). If John's company doesn't perk me up enough, the following information ought to — We are playing the Dreamcast for 24 hours straight.  That's right: There's no pain to be seen here kids.  Sure, some fatigue is bound to set in around hour 20, but I have actually been looking forward to this from the moment I finished the Sonic-a-thon. Why? BECAUSE. I. FREAKING. ADORE. THE. DREAMCAST.
Be sure to follow me on Twitter (@ShhActNaturally) to get constant tweets about Dreamcast games I'm playing, all-around shenanigans, and quick and snappy updates that try desperately to make you laugh.  
John and I will also be posting throughout this entire ordeal, discussing games we've played, feats we've accomplished, and challenges we've set for one another in a race to the end of 24 hours of DC gaming bliss. This post is the first, so expect a new post every hour or two, starting with one at around 10PM Eastern or so. Keep in mind that John is on the West coast, so there is a three hour time difference between us.
Of course, any and everybody is welcome to participate in the comment section below. Leave requests for games played, mock my disheveled pictures, or express your jealousy over my sweet Dreamcast hoodie. I'm aching to hear it.
In the tradition of 9/9/99, I will begin the playing at approximately 9PM.  Before we get this party started, I've got one question for you:
What do I play first?  Leave me some suggestions in the comments below.