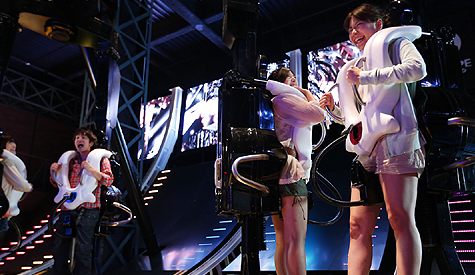 Sega took the idea of the cheesy old theme park and finally brought it into the 21st century with their redesigned Joypolis facility in Tokyo, Japan. According to a report by Japanese news site 4Gamer, Sega have created a 'shooting coaster' named Veil of Dark (ring any bells?) that's actually an arcade game with some sort of shooting game mechanic that allows you to somehow achieve a S-rank. That's right, thanks to Sega you can now ride a roller coaster better than your friends. No doubt a high score gets you tickets to spend on your very own Sonic x Hello Kitty Super Jumbo Plushy.
In addition to this there's a half-pipe ride where 'players' are able to do tricks while swinging up and down the pipe, as shown in the image above, as well as one of those holographic CG singers that are taking the country by storm and, of course, a 'proper' arcade. I implore you to check out the Japanese report, as well as the Joypolis website, it'll blow your mind.
Time to start nagging mummy and daddy to take you to Joypolis, and be sure to let us know how that goes in the comments below!
[Source: Arcade Heroes]