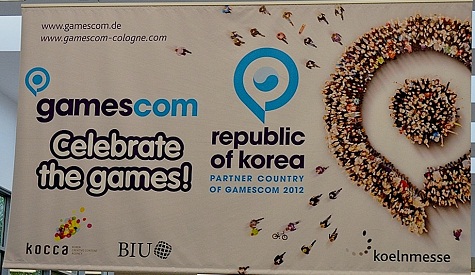 I woke up on Saturday morning from a night of pleasant dreaming populated with games, games and more games. My feet ached, my eyes pulsated, my throat was tight and raw, and my whole skeleton felt old and tired, but this Sega Addict survived the trip to Cologne the day before, Friday August 17th, and here I am to share my tale with you all. Sega's near non-existence at the event was a tad disappointing, but there was still plenty to see and do for Sega fans and lovers of all games big and small. So I'll grab some coffee while you hit the jump and then we'll get started with my impressions of Gamescom 2012.
Armed with a backpack full of food and water, a floor map marked with the locations of must-see companies and a camera wielding girlfriend, I waited in one of many lines of fellow European game enthusiasts, all vibrating with excitement. The huge crowd counted down in German as the clock reached 10 'clock and the second public day of Gamescom 2012 officially started. The exhibition was so much bigger than I could have ever expected with five huge exhibition halls absolutely full to the brim with gaming related companies trying to catch the attention of the thousands upon thousands of attendees. Saying 'it was difficult to know where to start' is an understatement.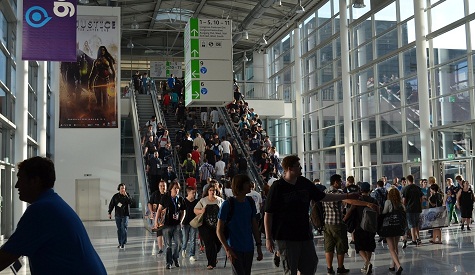 Most of the set-ups were nothing short of amazing, and the first thing I saw when entering my first hall was a huge screen showing a trailer for 2K's Borderlands 2 while behind me a massive demon lit up the wall of Perfect World's new MMORPG Raiderz display. In terms of sheer floor space EA, Blizzard and Sony were the dominators with Sony in particular having a really nice, carpeted and well lit area to chill out and play loads of PS Vita games. However in a real example of how size does not matter, some of my favourite booths were the smaller ones. For example, Konami had sectioned off a small area to play a demo of Castlevania: Lords of Shadow – Mirror of Fate for the 3DS, with Square-Enix having a similar area to relax and play some of their tablet games as well as the rerelease of Final Fantasy VII PC. These smaller areas offered, more than anything, the opportunity for much needed sit downs.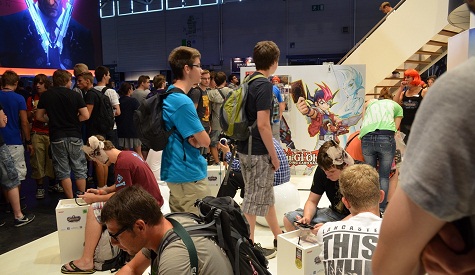 Valve's exhibition really stole my heart, being nothing more than a relatively small square area with a bunch of computers, each running a different indie game, along with a couple of ladies behind a desk handing out free keys for Steam games. Here I managed to see Tiny & Big in Grandpas's Leftovers and Awesomenauts in action as well as being able to play the yet to be released Hotline Miami in which I thoroughly enjoyed beating random people to death and watching the pixelated blood splatter everywhere.
In between the gaming there were constant events being held, from German geezers (the whole event was very German) throwing freebies into the roaring crowds to full blown European tournaments. Highlights for me were Capcom holding a small scale winner-stays-on game of Street Fighter X Tekken where winners could double-or-nothing their prizes for more extravagant ones. In addition to this I had my first exposure to League of Legends when I witnessed a live match thrown up on the biggest screen imaginable complete with a cheesy American commentator. I stayed to watch this one after some guy on a podcast I sometimes listen to talking about League of Legends incessantly with great passion.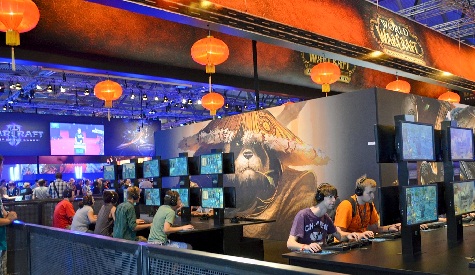 Eventually I got down to business and went on the hunt for the location of the Sega booth using the coordinates I had found on the Gamescom website, as Sega had reportedly attended the press day to show off their new IP, Jack Lumber. But to my disappointment, the area where the booth was said to have been was completely barren, an empty void surrounded by the attractions of competing companies. The only other presence Sega had was a 45 minute video compiled of various trailers shown on a general Gamescom screen. That and the appearance of some dear old Sega friends in the retro gaming section.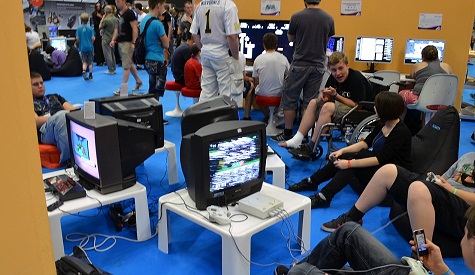 Ironically but unsurprisingly my favourite part of Gamescom was this loving tribute to games of past made up of good bunch of different organizations. Rare and landmark titles filled glass cases with a complete Game & Watch collection and pristine copies of the PC games Elite, Dark Seed, UFO: Enemy Unknown and the original System Shock really grabbing my attention. Many old systems were available to play with both players old and new enjoying some of gaming history's crown jewels. This also marked the first time I would play a NeoGeo, the nauseating Virtual Boy and even NG:DEV Team's Gunlord on the Dreamcast. Development team Stab Yourself offered some alternatives in presenting their uniquely devilish twists on retro favourites in the wobbly 'Not Pacman' and 'Not Tetris 2' as well as the Super Mario Bros. and Portal unifying 'Mari0'.
The retro delights didn't end there as I ended up in a fantastic little arcade where I played the original Pole Position, Asteroids and Galaxian with other classics such as Donkey Kong, Arkanoid and a Flash Gordon pinball machine based off the 1980 film. In addition to this I discovered a company named Dragon Box Shop that functioned as a European distributor of the Pandora mini-computer, the RetroN3 and my favourite, the Everdrive series of SD-card reading flash carts for the N64, SNES, Mega Drive and Master System. All of these devices were setup and I used all of them in a try-before-you-buy fashion and appreciated it greatly.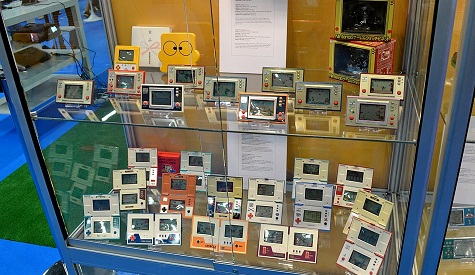 Of course with any expo of this size queues are expected and all the hottest new games had massive queues, with excited fans even bringing along foldable chairs to sit on and wait. Assassin's Creed III: Liberation took the biscuit with what was at one point a staggering 8 hour waiting line. As the day entered its twilight hour, many of these queues vanished and I managed to sneak in a quick play on iD's Doom 3 BFG Edition remake on an 3D LG monitor as well as 2K's reimagining of X-COM Enemy Unknown.
So many wonderful gaming delights were on display at Gamescom 2012 and I had so many great experiences it is impossible to summarise it all in one article, but rest assured you got to read all of my personal favourites and even though Sega weren't present I had a truly fantastic, albeit tiring day. If any of you readers went, or if you want to quiz me further on my experiences then leave a comment below of check out the forum here. Here's to Gamescom 2013 being even bigger and better than this year's, if that's even possible.