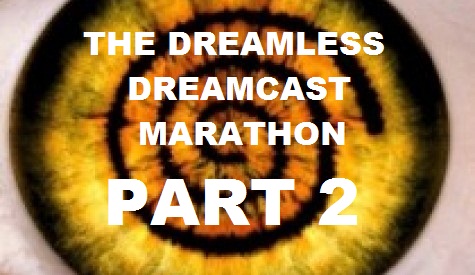 As I'm sure you all know, that holiest of holy days lies just beyond the horizon. For what am I blaspheming so emphatically, you ask? Wait, you really have to ask me? Why of course, it's September 9th, the Dreamcast's birthday!
Now, if you have stuck with our site over the past couple of years (i.e., if you have I tolerated my incessant, childish ramblings for this long), you're probably aware of my depraved obsession with exhausting, physically taxing 24-hour marathons. Ok, well I did two of them. That's a lot. Shut up.
Anyway, it's that time of year again, and I am happy to announce that I am bringing the Dreamcast Marathon back around for its second run. That's right: from 12PM on Saturday, September 8th to 12PM on Sunday, September 9th, I will be engaged in another 24 hours of orange swirl debauchery! Unlike previous marathons, this adventure will be chronicled LIVE, using my trusty webcam and Justin.TV (Channel Name: SegaAddictJosh). For the first time ever, you can watch my sallow-skinned maw as it droops lower and lower before I pass out completely on my Dorito crumb-covered coffee table. RIVETING!
Keep your eye on the site for more details as we inch closer to that fateful day. I hope to offer plenty of entertainment throughout the night, and even a few prizes before this exciting event is through! At the very least, you'll get the sadistic pleasure of watching your good friend Josh Newey as he works through another dreamless night with his favorite console of all time.