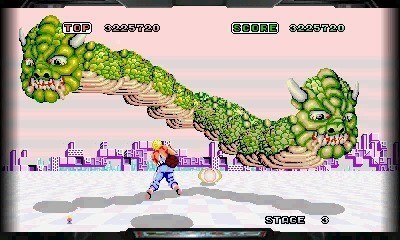 The 3DS really has become the retro Sega fan's dream handheld. After the release of a few Game Gear classics last year and the rejuvenation of Shinobi the year before it, Japan is now getting a stereoscopic 3D remake of one of Sega's original arcade hits, Space Harrier, the day after Christmas.
The 3D upgrade will come with a new bevy of adjustable features, including four difficulty levels, reversible Y-axis controls, a rapid fire feature, a time trial mode, and more. But above all of this is an awesome feature that allows players to mimic the movement of the original revolutionary arcade cabinet via the 3DS' gyroscope. It sounds a bit unwieldy, but it's a great reference nonetheless.
Of all of Sega's retro arcade titles, Space Harrier makes the most sense on the 3DS, considering the Master System version actually featured 3D capabilities with the use of "SegaScope" 3D glasses.
The game will be available on Japan's eShop for 600 yen ($8). Let's hope we get this thing in the West sometime soon.
[Source: Siliconera]