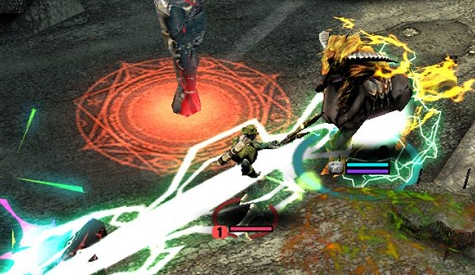 Bemused? Don't be. We're only talking about Sega's latest addition to the Japanese Apple  AppStore, Demon Tribe.
Taking place in the not-too-distant future, the shock wave generated from the explosion of Betelgeuse, a star in the Orion constellation, results in the opening of a rift between our world and the dream world which in turn allows demons from said dream world to run rampant across Earth.
The solution to such a unique problem? Send out agents of the secret 'Omega Surveillance' society to clean up demon outbreaks by absorbing them and then transforming into them.
Demon Tribe's gameplay consists of co-op 3 vs 3 battles which can be fought alone or with friends. Following battles, the stats and abilities of players' 'Agents' can be increased, RPG style.
It's certainly a lot to get your head around, but I'm sure a Western version of Demon Tribe would certainly help. Considering Sega's other recent iOS game, Sonic Dash, has gone down well (at least with Alex) perhaps such a localisation isn't too far-fetched. What do you reckon? Let us know in the comments below!
[Source: Siliconera]