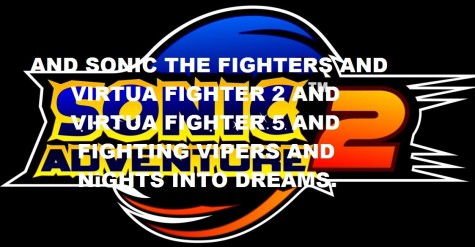 After months of seeing Sonic Adventure 2 swim around in the pleasant yet lonely waters of success, Major Nelson's most recent Top 20 XBLA chart has introduced a wealth of new Sega guests to the pool.
Thanks to the recent XBLA sale, which was riddled with discounts for great Sega games, no less than six titles from the publisher managed to make it onto the countdown, most of them making it all the way to the top ten. Among them were Sonic the Fighters at #4, Virtua Fighter 2 at #6, Virtua Fighter 5: Final Showdown at #7, Fighting Vipers at #8, NiGHTS into dreams at #11, and of course Sonic Adventure 2, which was not on sale, at #14.
Obviously this news is a bit tampered by the fact that it was spurred on by a sale, but nonetheless, it's immensely satisfying to finally see the visually overhauled NiGHTS and the underplayed fighting gem Fighting Vipers getting a little bit of recognition on the charts.
Hit the jump to see the full list.
[Source: TSSZ]
1. Minecraft: Xbox 360 Edition
2. Pinball FX2
3. The Walking Dead
4. Sonic: The Fighters
5. Trials Evolution
6. Virtua Fighter 2
7. Virtua Fighter 5: Final Showdown
8. Fighting Vipers
9. Castle Crashers
10. Yu-Gi-Oh! 5D's Decade Duels Plus
11. NiGHTS into dreams…
12. Trials HD
13. Worms 2: Armageddon
14. Sonic Adventure 2
15. Jojo's Bizarre Adventure HD Ver.
16. Peggle
17. Fruit Ninja Kinect
18. Real Steel
19. Worms Revolution
20. Capcom Arcade Cabinet