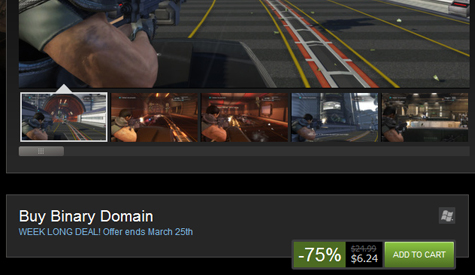 Have we told you enough about how good Binary Domain is and how unfortunate it is that the game didn't receive the audience it deserved?
Well, if you've always been intrigued but didn't have the cash to spare on this game's binary goodness today is your day! For the low price of $6.24, Binary Domain could be a part of your Steam library of games. It's even got:
-A NEW TAKE ON FUTURISTIC TOKYO!
-A CONSEQUENCE SYSTEM!
-PROCEDURAL DAMAGE!
-WEAPON MODIFICATION AND SKILL SELECTION!
But you must act now as this offer ends on March 25th!
[Source: Steam]