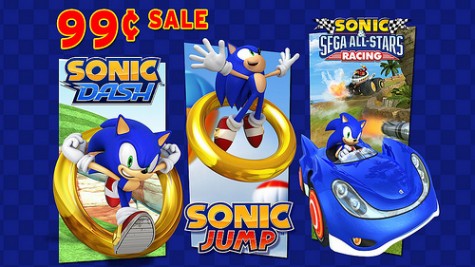 As much crap as I tend to give Sega for their mediocre iOS Genesis ports, I have to hand it to them when it comes to original content. There really aren't that many mobile games that they've released in the past year or so that I haven't liked, and Sonic's iOS/Android excursions have been especially impressive.

For those of you who have not yet gotten to experience the charms of Sonic and Sega All-Stars Racing iOS, Sonic Jump, or Sonic Dash, Sega is offering a $0.99 discount this weekend only. Android users will be able to snag Sonic Jump, while iOS users can pick up both All-Stars Racing and Sonic Dash. 
While all three of these games are quite solid, I highly recommend Dash. Check out Scott Morrison's review if you need further inspiration.