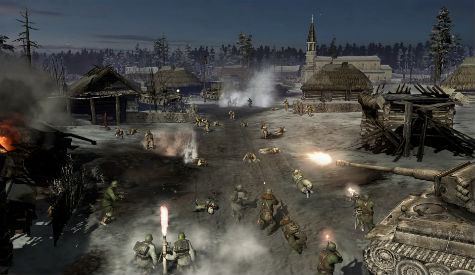 Tim Heaton, director of established Sega studio Creative Assembly, is to temporarily oversee Relic Entertainment as interim manager in the transitional period after Sega's recent purchase. It's no surprise Heaton has been tasked with helming the studio most famous for Company of Heroes when Creative Assembly are experts in the RTS genre themselves with the Total War series.
While there are "no plans" to merge the two teams, Heaton had this to say about the situation:
Sega bought Relic because they could see the staffs' depth of ability and knowledge in the PC strategy space. The studio has had a tough time in the past few years with a publisher struggling to support them, but it's a testament to the way Relic works that it has had great staff retention, and that it has focused on making Company of Heroes 2 a great game.

To be honest we could see many similarities with Creative Assembly – they're pragmatic, deeply experienced and retain focus on the important things.
Creative Assembly have both Rome II and free-to-play Total War: Arena on the horizon while Relic fans can expect Company of Heroes 2 in June.
[Source: TSSZNews]