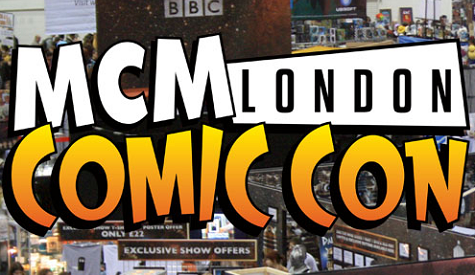 MCM London Comic Con. It rained so much. Why did it rain so much? I just wanted to play some games. Anywho, my trip to the heart of England's capitol saw me playing 3D Space Harrier, watching some guy play Dance Dance Revolution really well and listening to a kimono-wearing Londoner sing the Japanese version of Final Fantasy IX's "Melodies of Life".
Practically nothing I expected to see at MCM London Comic Con was actually there, but what I did find more than made up for it. Hit the jump and I'll tell you all about it.
Like I said, it was a really rainy day. Once I finally made it to the London ExCel exhibition centre I was already drenched right through to my underpants and my knees were stiffer than a boar hairbrush. "First stop, the toilets!" I heartily exclaimed to my band of soggy companions – wait, you probably don't want to hear about this – and so I attached my coveted press pass, jumped the 45 minute queue and got stuck in.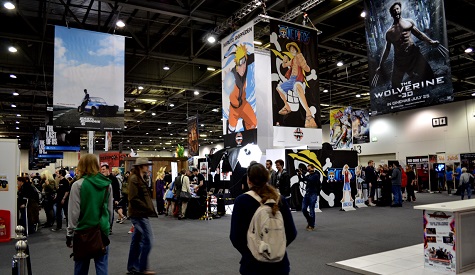 An hour and a half later and I finally managed to pry myself from the Nintendo Unleashed exhibit. It wasn't that the games were particularly interesting – I played Resident Evil: Revelations for a full twenty minutes without being able to find a gun – I was simply too polite to end the inane conversations I was having with the Nintendo Unleashed staff. Don't get me wrong, they were all very nice people, they just didn't know anything about Nintendo, its games or Sonic Lost World.
This being said, I met one fellow stationed next to 3D Space Harrier for the Nintendo 3DS who was very open about how Nintendo hadn't really briefed the assistants on any of the games on display. For most of the people there, MCM London was the first time they'd played a Wii U or Nintendo 3DS at all, let alone the games they were representing. Regardless, I played some promising looking games such as Rayman Legends, The Cave, 3D Space Harrier, Donkey Kong Country Returns 3D and even 3D Space Harrier!
There were more games available to play such as Deadpool, Remember Me, Dynasty Warriors 8, but I spent more of my time at MCM London looking at the many indie comics and mechanise traders.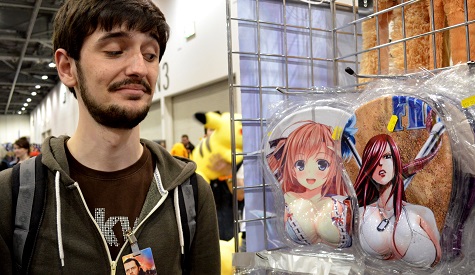 There were so many crazy things for sale that I didn't know where to look first. I found one guy that had what seemed to be the entire Sega 32X library with boxes and manuals; an extremely rare sight in Europe. I also met one man who was selling the infamous Dreamcast version of Half-Life, although on closer inspection it turned out to be an extremely convincing fake. This also marked the first time I would see the Asian PAL Mega Drive model one as well as a Game Gear TV Tuner. Unfortunately I was on a tight budget and had to walk away empty handed, although that £6 copy of Thunder Force IV sure was tempting.
Hatsune Miku was everywhere. MCM London was the first time I'd seen the blue-haired vocaloid outside of the sphere of Sega fandom and I truly did not anticipate just how popular she was. Hatsune Miku figures, Hatsune Miku costumes, Hatsune Miku wall scrolls, full sized Hatsune Miku pillows… I made do with a little Mikudayo keyring. I think it's proper cute.
The retro gaming exhibition MCM London Comic Con was a bit of a let down considering the exciting write up on the MCM London website. It was mainly Dance Dance Revolution machines, console versions of Super Street Fighter IV Arcade Edition and Ultimate Marvel vs. Capcom 3, and an unknown, Japanese Initial D Sega arcade machine (it's probably just called Initial D, and I'm just being daft). Check out the photo and let me know just what arcade game it is!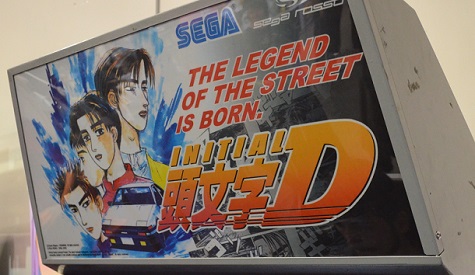 Other places of interest included the Steampunk exhibition which starred the ever eccentric Robert Rankin, a Japanese fried chicken and ramen stall and the numerous hentai traders. And lets not forgot the cosplay. Lots and lots of cosplay. My brother told me he saw a guy and a girl dressed as Sonic and Tails respectively and that they were making out. SEGA!
All in all, I had a really good time at MCM London Comic Con. It was far smaller, more manageable and less sweaty than Gamescom 2012 and it also marked my first entry into such an event as a bona fide member of the gaming press. Granted, there wasn't all that much of direct interest to Sega fans, but it was good clean fun and I look forward to doing it again. Thanks to my girlfriend Emma for taking all the photos seen here!
Did you go to MCM London Comic Con? I really want to know you think, so drop us a comment below!