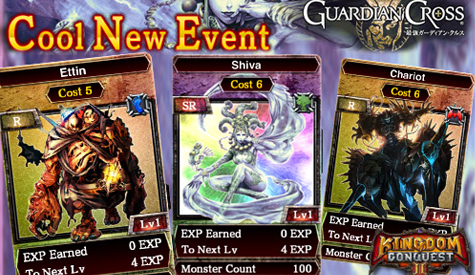 Sega has teamed up with Square Enix to produce some in-game content for Kingdom Conquest II based on Square's Guardian Cross card battle RPG.
This crossover includes:
– Players receiving a "Gold Slime" R Monster for every day they login.
– The ability to buy Guardian Cross Monster Cards from the Shop.
– A special event where you work with your Alliance to challenge the special guests and get a "Shiva" R Monster card.
– Collect a "Vampire Lord" SR Monster card by inviting friends to play.
– New Guardian Cross NPC monsters appear when attacking Land or Ruins.
Sounds like a lot going on in the Kingdom Conquest II universe. Anyone currently playing the game on mobile devices? Are you familiar with Square Enix's Guardian Cross?