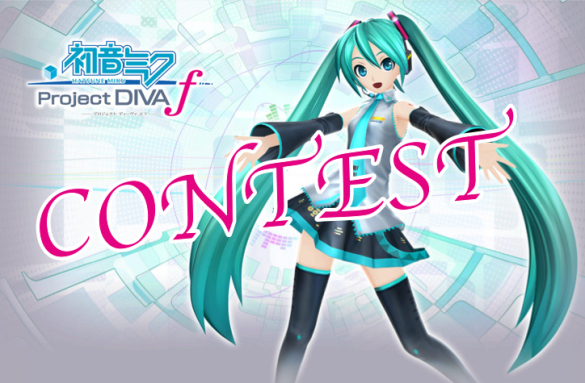 It's Hatsune Miku Mania here at Sega Addicts, and we want to keep spreading the Miku love with all of you awesome readers!
For the next 2 weeks we are giving away some great bonus DLC packs for Hatsune Miku Project Diva f. Those bonuses include the following:
Song Pack, which includes:
Tell Your World (By livetune)
Tokyo Teddy Bear (By Neru)
Dream-Eating Monochrome Baku (By Nem)
Sweet Devil (By Hachioji P)
Rin-Chan Now! (By Owata P & sezu)
Senbonzakura (By Kurousa P (White Flame) )
How do you win all this awesome stuff? It's easy! With a little bit of creativity, you can sport the best of the best when playing Project Diva! Hit the jump to find out how!
You have a few ways to enter:
Draw any Sega character as a Vocaloid
Take the craziest and most creative picture you can using "Portrait Mode" in Project Diva f
Take a picture of your Hatsune Miku collection, merch, etc.
Once you've done all that, post your entries either on Twitter or Facebook and be sure to use these tags: @SegaAddicts, @Sega, #MikuContest, so we know you are entering. Or, if you don't have an account with either of those, you can post your entry in the comments to this message.
First Place: All Three Bonus Packs
Second Place: Song Pack
Third Place: Character Pack
Fourth Place: Snow Miku Pack
But you don't have the Vita version you say? No worries! All of these packs work with both the PS Vita version AND the PlayStation 3 version! The staff of SegaAddicts.com will be judging all the entries, so do your best! Go grab your cat and make him sing with Miku, or your roommate, or your mom! Or draw Sonic singing a duet with Miku! Anything!
The contest will run from April 2 to April 15th. Plenty of time to get those creative juices flowing!