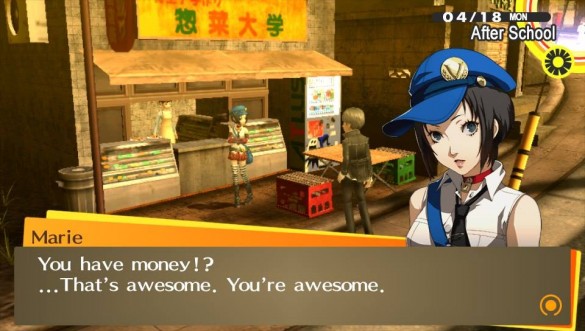 And what's even more awesome is the latest news we got from Atlus and Arc System Works. Perhaps as another way of showing fans that they're not going to screw around with them as much as they did with the original Persona 4 Arena (really, six bucks for glasses?), it was revealed that Persona 4 Arena Ultimax's first post-launch DLC character, Marie, will be free for at least one week following the game's release.
This is a rather big departure from ArcSys' usual M.O. regarding downloadable characters. While BlazBlue ChronoPhantasma's Terumi was free for a week following the game's digital release (Terumi was a preorder bonus for those who bought the disc version, similar to P4AU's Adachi), they've never straight up given away two free characters before. As the company who gave us the first DLC characters in fighting games, perhaps they've seen the monster they've created and are trying to fix that?
Either way, this is great news, and hopefully ArcSys, as well as other companies in the genre, can make this type of character rollout the standard rather than the exception. Atlus, ArcSys, my PayPal account thanks you kindly.
Source: Gematsu