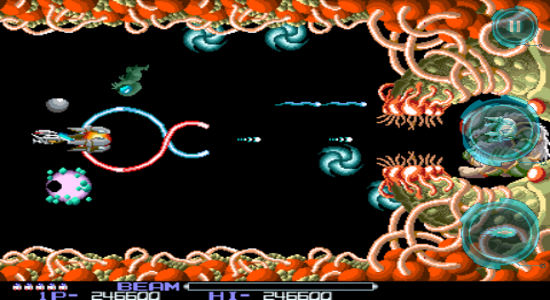 For those of you who fondly remember R-Type it can easily be recognized as one of the perennial side scrolling shoot'em ups that ravaged gamers in arcades throughout the 1980s. Set in the 22nd century, players are strapped into the R-9a "Arrowhead" fighter to 'blast off and strike the evil Bydo Empire', which is as good a reason as any to destroy anything on-screen. It has been infamously touted as one of the most relentlessly difficult games ever to beat, it isn't a far stretch to imagine the string of shattered gamers who have been left in it's wake.
Now DotEmu, a developer claiming to be dedicated to porting laudable games from the 1980's and 1990's has been working on a touch version of the game for the iPod Touch and iPhone. While a release date hasn't been announced yet, it has been in development since the latter half of 2009. Hopefully, the lenthy amount of time is due to the careful handling of the IP while porting the Sega Master System classic to the touch-centric iPhone.
To quote DotEmu CEO Xavier Liard, "We are very pleased to work on R-Type and to start our collaboration with Irem Software Engineering Inc. Our main goal is to make the best touch version possible of this great game to seduce both fans and new players. This is really a great game and we are eager to release it!"
Releasing some new screenshots for the R-Type, all that seems left to do is wait until R-Type arrives on the App Store to see if it pays an appropriate homage to one of the original cornerstone titles of the shmup subgenre. In the meantime, those who can't wait to be rent asunder by the sheer amount of punishment can check out the R-Type site where you can enter you email for some inbox junkfood.