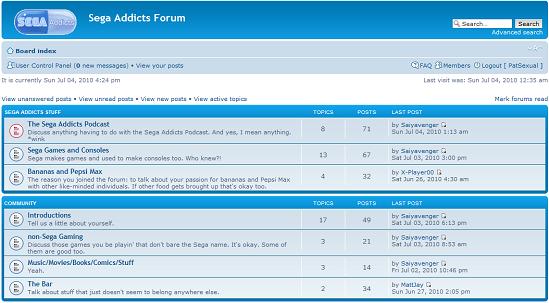 Hey Sega Addicts, I'm the other community manager-like guy here to report on what has been going on in the forums this week. If you haven't joined the forums yet, what are you waiting for? DO IT NOW! We would love to see some new members, jump right in and start posting today. Also, I've noticed a lot of introduction threads by members who haven't really been around for a few weeks. If you guys or girls are reading, come on back, there's lots of stuff going on now.
So, to start things off the other, more legit community manager Brett (Saiyavenger in the forums) has been posting a whole bunch of worthwhile stuff that you should check out right now. If you do nothing else, please check out this awesome car that he designed right here. Even if you're not a big fan of racing you have to admit that it's pretty impressive.
Speaking of Saiyavenger, he claims to have won the Raddest Box Art thread that was started by MattJay a few weeks ago and was good enough to get mentioned in the Episode 16 podcast post. That's quite a big claim to make given the legend of this thread, and since I don't think it's fair for him to win at both creating art and finding art I am officially declaring an open challenge to the community to find and post better, crazier, or more mind-blowing Sega box art than Saiyavenger has. Make him work for his title!
Elsewhere in the forums there's been a whole bunch of threads started to try and get things jumping again. There's the Book thread I made where Jane Eyre seems to be the controversial book. I hate it, MattJay loves it, Saiyavenger doesn't seem to have read it (which is a good thing); where do you stand? There's also the one about music by Stevie. What are you listening to RIGHT NOW? Why don't you let us know? Then let us know again later, but not too often so it doesn't look like you're spamming us. Finally, discuss that awesome and unexpected noise Alex made on podcast 17, then discuss your thoughts on dual wielding light guns, or anything else you found interesting on that podcast.
By the way, next week I'm hoping to have a few recommendation threads going for various features that could find them useful. Saiyavenger has one for his feature called Mega Driving, and MattJay has one for his top ten feature. So check out their features then tell them what you think, or give game/topic suggestions. I plan on creating one for my feature that will drop this Wednesday, so mark that on your calendars. In saying that, don't forget about the other great features on this site. A lot of new ones are coming out next week for your reading pleasure, so check back often – there are at least two every day in addition to the news. But that shouldn't be a problem because you'll be back everyday to hang out in the forums anyway, right? Right!
Finally, I want to set some forum challenges for the community to work towards this week:
10 new members.
7 threads created by someone other than Saiyavenger.
Saiyavenger stripped of his title as winner of the box art thread.
Those challenges are very anti-Saiyavenger, sorry Brett. Now you might be wondering what the reward is for completing these challenges. Well, the reward is a better forum! Next week I'll announce how many challenges we completed, post some new ones and post more of them. See you in the forums!