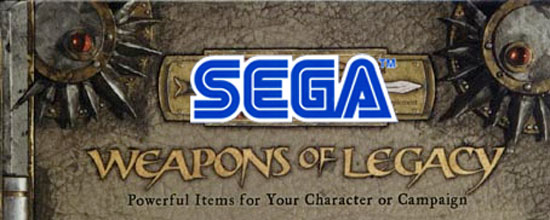 Video games are a medium where the landscape is changing constantly. Certain trends like retro inspired art, motion control or the use of Rob Zombie's Dragula can come and go and sometimes define an era in gaming, but some things never change. People will always love colorful platformers, brown and grey first person shooters and especially bitchin' powerups and weapons.
10. Mortal Kombat – GET OVER HERE!
Have you played the first Mortal Kombat lately? It doesn't really hold up. The controls feel stiff, slow and it's hard to remember why we all thought digitizing real actors into animated sprites looked cool. But it did extremely well for one reason; it was violent as SHIT! Even by today's standards the violence in that game is pretty ramped up. Soccer mom's got wind of this, protested it, and that caused the game to get way more attention than it deserved. There were a number of attacks and fatalities in MK that caused young boys to toss that Genesis controller in the air and yell 'FU-I MEAN HECK YEAH!' but Scorpion's special, with the help of a memorable battlecry that became the catchphrase of the game, stood out above them all.
9. Earthworm Jim – Powersuit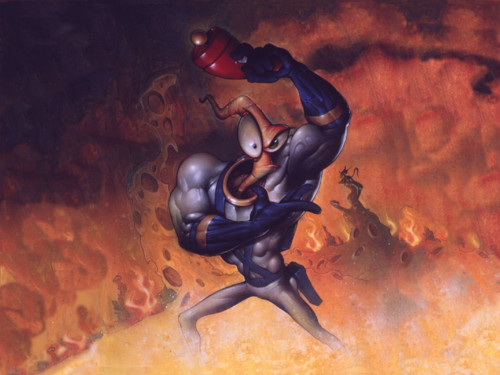 EARTHWORM JIM,
THE SOIL HE DID CRAWL
EARTHWORM JIM,
A SUPER SUIT DID FALL.
JIM WAS JUST A DIRT EATING,
CHEWING LENGTH OF WORM, FLASH
BUT ALL THAT CAME TO A CRASH
AND GAVE HIM LOTS OF POWER
EARTHWORM JIM,
HE'S SUCH A GROOVY GUY
EARTHWORM JIM,
HE ROCKET'S THROUGH THE SKY
CRUISING THROUGH THE UNIVERSE
HAVING LOT'S OF FUN,
HERE COMES EARTHWORM JIM YOU KNOW
THAT HE'S THE MIGHTY ONE
— LOOK OUT —
LA LA LA LA, LA LA LA LA, LA LA LA….
DESPITE HIS GREAT BIG MUSCLES
AND HIS REALLY BIG RAY GUN,
JIM IS STILL AN EARTHWORM
BUT THEN HE'S THE ONLY ONE,
WITH A SUPER SUIT TO MAKE HIM REALLY SUPER STRONG,
JIM CAN BE A WINNER IF WE ONLY SING ALONG…
(ALRIGHT)
EARTHWORM JIM,
WE THINK HE'S MIGHTY FINE
EARTHWORM JIM,
A HERO FOR ALL TIME
EARTHWORM,
EARTHWORM,
EARTHWORM,
EARTHWORM, JIM
HOORAY FOR JIIIIIIIIIM!
GROOVY!
Did I just remind you that this cartoon existed?
8. Dynamite Headdy – Heads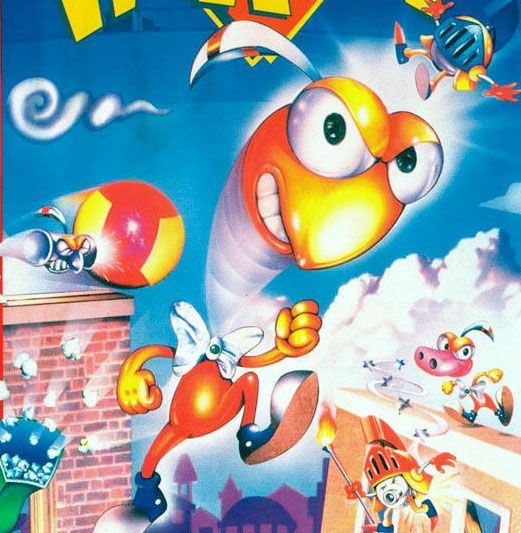 Much like how the Contra games of the previous generation turned boys into men, the Genesis had Treasure games. I recently revisited Dynamite Headdy and I have no idea how 6 year old me ever got past the third level. This game is a bitch but it's still super fun and that's due in no small part to the power ups you had at your disposal. Some like the vaccum head helped you defeat enemies while others like the shrinking head opened new pathways to vary your choices in progressing through the levels. The power up system is pretty similar to another game released a couple years earlier called-
7. Kid Chameleon – Helmets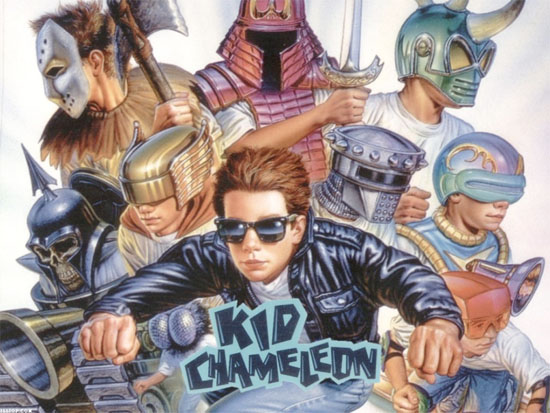 I like Kid Chameleon and I could pontificate on and on about the game but my colleague Andrew Galbraith already did such a good job that I'll just direct you to his article.
6. MadWorld – Chainsaw Hand
I'll be honest, I got MadWorld for 7 bucks at a Gamestop sale and got tired of it in 40 minutes. But those 40 minutes were fucking awesome. In what is undoubtedly a reference to Bruce Campbell's Ash character from the Evil Dead series, MadWorld's main character Jack has a chainsaw strapped to his arm. Jack uses the saw in a myriad of different special moves to rend, rip and tear apart anyone who gets in his way. This game should be to kids these days what Mortal Kombat was for kids my age. It probably would be if it sold more than 13 copies.
5. Rocket Knight Adventures – Jetpack
Every game should have a jetpack. EVERY game. Jetpacks make everything better.
4. Toejam and Earl – Rocket Shoes
See: #5. Also they helped you get to level 0. You can't really DO anything there but it was still pretty rad to find the secret level and get to jump into a hot tub with 3 hula chicks.
3. Bayonetta – Foot Guns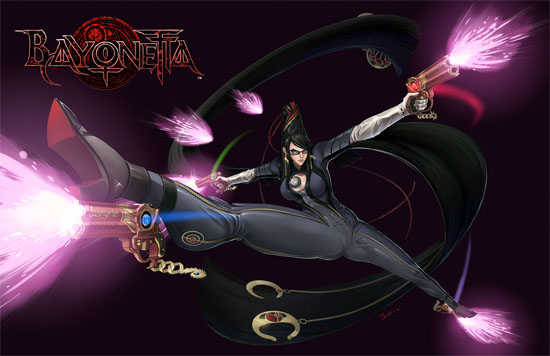 Much like the way Sonic was a response to Mario, most of Sega's games these days follow a trend. 90% of game companies are making the same games that are derivative of the same other games over and over again. Devil May Cry begat God of War which begat Dante's Inferno and so on. Even Sega falls into this but when they do it, they go fucking nuts. When Sega makes their God of War it's a crazy ass, super Japanese game about a crazy hot witch who's hair fights demons and has guns on her FEET! I dig the way Sega does this which is why I'm excited for their Halo/Uncharted/Gears of War coming up called Vanquish.
2. Power Stone – Power Stones
In Power Stone on the Dreamcast, the characters could pick up stones while fighting that could transform them into more powerful forms. Players finally got to do what bosses did to piss us off for years. It really opened up the way you played too and made the 10 character roster seem to double.
1. Sonic the Hedgehog – Super Hi-Tops
You think shoes can't be a weapon? Tell that to #3 on this list. In Sonic speed IS the weapon. In the debate of platforming vs. speed in Sonic games I usually fall on the platforming side. Some games like Sonic Advance 2 seemed to think Sonic was all about holding right to win. if that were true, you may as well watch a youtube video. But when I break open that box and the music plays I can't help but get excited and blast toward that finish line.
I really try and stay away from Top 10 [INSERT GAME THING HERE] lists for this column but that was still pretty fun. This is also why I like when people send me suggestions! Email me, post in the thread, or comment on these articles and I might just use your idea for a future article.