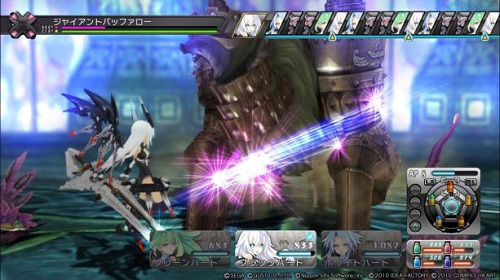 Originally titled (roughly at least) Hyper Dimension Game Neptune, NISA have finally announced this curio-rpg for both main western territories. The announcement was all but confirmed for a while now, with localisation rumours abound, but the announcement of a European release is actually a pretty big surprise for me.
Hyperdimension Neptunia is an odd game to explain, so for the official explanation;
This unique RPG features game consoles personified as goddesses, CPUs (Console Patron Units), who you can customize visually with equipment to enhance their stats. Players take the role of Neptune and follow her quest to save the captive Histoire. This leads her to face the corrupt monsters ravaging the world of Gamindustri unleashed by the evil Arfoire.
You're also able to apparently use custom images saved to the PS3 as a replacement for Neptune's rear emblem, as well as to summon them as powerful attacks. Also included for that very purpose are the famous Sega homages like Alex Kidd and Space Harrier Guy among others, but considering you can use saved images there's even a chance you could summon the entire Sega Addicts team to help the console godessess stop the evil of piracy (Arfoire is a great localisation). Expect the game to arrive Spring 2011. Can't wait for this one! After Trinity Universe this could finally be Idea Factory's first real triumph.
[Source: Prinny Bomb, dood!]