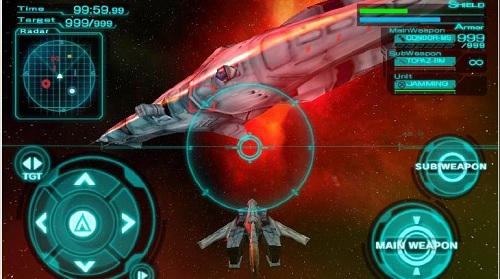 Apparently that's a thing. Android mobile phones are now integrating 'Naked Eye 3D', meaning you get that cool 3D effect with none of the indie cred that wearing sunglasses to look at your cellphone used to provide. As a trade off, you get some pretty sweet games such as Taiko Drum Master and Ghouls and Ghosts, but most importantly its been revealed that this will also be the platform for the recently trademarked Silpheed Alternative.
Funnily enough the switch back the original naming convention doesn't seem to have changed much, as the above screen shot seems to indicate a return to the free-flight space combat of Project Sylpheed rather than the quasi-2D shoot 'em ups of old. Note the 3D radar in the corner, which probably wouldn't be necessary if it was on rails. A little disappointing, but again as a pretty big fan of Project Sylpheed I'm pretty happy with it, and I'm sure a space combat game where you could choose where to fly would showcase off the 3D effects a lot more impressively. The full title is 'Silpheed Alternative: Menace from Beyond the Stars', which has a wonderful cliche sci-fi sound to it, and follows the story of unknown forces attacking from the edge of the galaxy and making their way to our solar system.
Silpheed Alternative will be pre-installed on specific handsets, the first of which is being released this December in Japan. International availability and pricing of either are as of yet unannounced.
[Source: Andriasang]