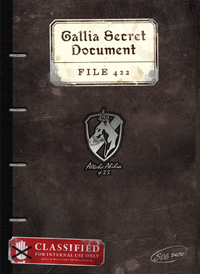 So there are two editions of Valkyria Chronicles 3 being released, as typical of almost every game that's come out in the last couple of years, with one being the vanilla disc version and the other the fancy pants limited edition.
For VC3, the limited edition comes with a collectible collapsible cup emblazoned with the Nameless Squad's emblem (which unlike the Final Fantasy XIV one I understand you can actually drink out of), as well as a 'telephone card with mini-poster' and a 'Nameless x Calamity Raven visual clear poster'. I strongly advise checking them at at Siliconera, as if you're anything like me these words give you absolutely no real indication of what those things would look like.
Regular and LE pre-orderers will also receive the above illustrated 'Gallia Secret Document File 422', which apparently is a booklet recounting the tale of hero Kurt's first battle, also giving a glimpse of what Gallia was like in 1935. I'm not sure how this will be written, but if it's actually formatted like an official report it could be a pretty interesting read, and that's probably what makes it my favourite of the mentioned bonuses. Of course, also containing a code to unlock Valkyria Chronicles II's Alias did have something to do with shifting my favour.
These are only confirmed for the Japanese release so far, but I wouldn't be surprised if at least the Secret Document made it to the international release. It's got to be easier to fit in a box than a Sonic hat after all.
[Source: Siliconera]