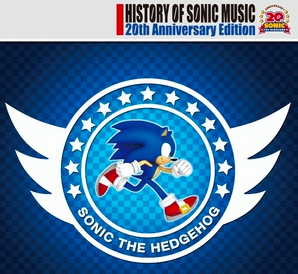 "History of Sonic Music 20th Anniversary is an album dedicated to Sonic's 20th birthday and was previously known as "Sonic 20th Anniversary Best."  The entire 42-song tracklist has been announced on Famitsu, and many other sites where the album can now be pre-ordered.  The album spans Sonic's 20 years of video game life with tracks ranging from the Genesis days all the way to songs from Sonic Colors.  Hit the jump to see the entire list, chili dog fiends!
[Disc 1]
Sonic 20th Sound Logo
Green Hill
Emerald Hill
Sonic… You Can Do Anything
Toxic Caves
Angel Island
Flying Battery
Midnight Greenhouse
Green Grove
Super Sonic Racing
Open Your Heart
It Doesn't Matter
Run Through The Speed Highway
Live & Learn
Escape From The City
That's The Way I Like It
Neo Green Hill
Leaf Forest
Sonic Stage
Sonic Heroes
We Can
Seaside Hill
Route 99
Right There, Ride On
[Disc 2]
I Am… All Of Me
Sonic Speed Riders
Quick Trip To Paradise
His World
Kingdom Valley
My Destiny
Seven Rings In Hand
A New Venture
Race To Win
Un-gravitify
Endless Possibility
The World Adventure
Rooftop Run – Day
Knight Of The Wind
Splash Hill
Free
Reach For The Stars
Starlight Carnival
Planet Wisp
Included in the album are stickers and a code to download a Hero Chao statue for the Statue Room in the Xbox 360 and PS3 versions of Sonic Generations.  The album hits stores on December 7th, 2011 and will run for 35,000 yen and can be pre-ordered on the following sites:
Anyone plan on picking it up?  I know Josh Newey may do so for karaoke sessions and future installments of Josh's Musical Corner on the Sega-Addicts Kids Table.  Oh but I jest!
[Source: Sonic Stadium]