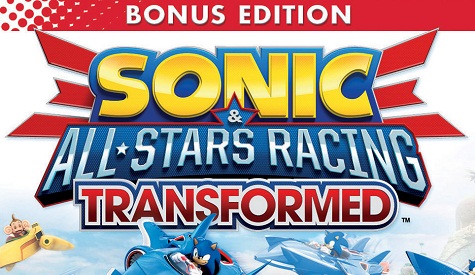 Sega have just announced via official press release that 'bonus' versions of Sonic & All-Stars Racing Transformed for the Xbox 360, PS3 and PS Vita, containing some extra goodies, will be released alongside the 'standard' editions November 20th of this year.
The bonuses found in the Bonus Edition include an Outrun inspired track, 'OutRun Bay', the return of Metal Sonic as part of a 'Metal Sonic Mod Pack' and finally an 'Emoticon Sticker Pack'.
My personal reaction to this is very negative. We, the Sega loving consumers, will be able to play as Wreck-It Ralph and some Nascar lady out-of-the-box, yet to play as long time fan favourite Metal Sonic we will have to pay even more money for a game that will hardly be cheap on release anyway. Add in the fact that the character roster will be spread out over multiple versions of the game for each available platform, and the incentive to buy this game at all decreases with every further announcement. This is of course my own opinion, but I genuinely want to know what you readers think about this so please leave a comment below and hit the jump to read the full press release and to see the Bonus Edition cover art.
SONIC & ALL-STARS RACING TRANSFORMED™ BONUS EDITION ANNOUNCED!

The Bonus Edition of the thrilling new racing experience from SEGA will contain a brand-new track and character plus various collectable items and will be available as pre-order while supplies last.

The exclusive OutRun Bay track contains all the standard race modes found in Sonic & All-Stars Racing Transformed™, plus challenges and time trials specific to the track.  This time though, the whole race is transformed as you get to speed across the gorgeous shimmering blue ocean as well as the roads in a spectacular level inspired by SEGA's classic arcade racer OutRun™.  Sonic the Hedgehog's popular rival Metal Sonic explodes on to the tracks in the exclusive Metal Sonic Mod Pack in the Bonus Edition of the game; this prototype levitation vehicle was crafted purely to race – and race it must!  In addition to the track and character, an Emoticon  Sticker Pack can also be found in the Bonus Edition.  These collectables are found throughout the game and are given as rewards for skilful play, high scores and more.

Sonic & All-Stars Racing Transformed will speed on to the Xbox 360® video game and entertainment system from Microsoft, PlayStation®3 computer entertainment system and PlayStation® Vita on November 20, 2012.