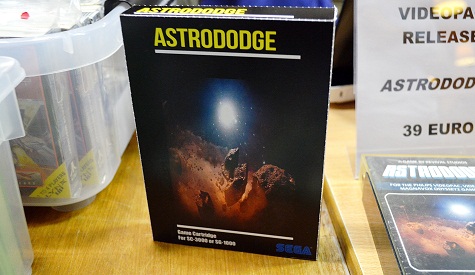 During my visit to Retro Game Beurs Deurne, a retro game fair in the Dutch town of Deurne, I bumped into Martijn Wenting of Revival Studios; a retro game collector and developer with releases on the Vectrex, Sinclair ZX-81, Videopac/Magnavox Odyssey 2 and more. During our talk he confirmed that the mysterious Sega SG-1000 homebrew game developed by Revival Studios, which we reported on last month, is indeed named 'Astrododge' and will be released as a physical cartridge, as well as in cassette form for the Sega SC-3000 home computer, making it the first game released for the rare, Japanese-only Sega console in almost 30 years.
Not only does Martijn develop the games, he also designs the box art and writes the manuals resulting in a product of high quality and appeal to collectors. The SG-1000 & SC-3000 release come together in a very limited run of 50 copies available for purchase from his website, or from his appearances at various gaming fairs; the reason for the low print run being due to the scarcity of SG-1000/ SC-3000 owners.
It is worth keeping an eye on Revival Studios in the future as well, as Martijn Wenting revealed to me that two Dreamcast games titled 'Switch' and 'Chao's Adventure' are set for release in 2013 as well as another, unnamed SG-1000 game with 100 copies planned for production depending on the success of Astrododge. Check out the Revival Studios website here, and hit the jump to see a larger photo of Astrododge, Revival Studios' Videopac releases and a picture of the main man himself. As always, let us know your thoughts in the comments section below!