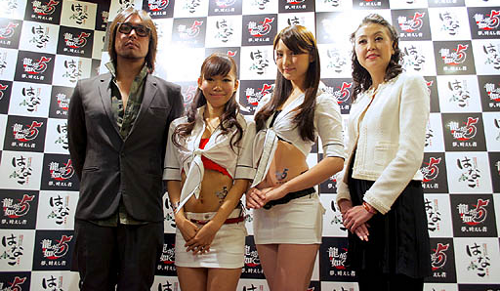 To promote Yakuza 5 Sega has teamed up with Japanese pub chain Izakaya Hanako to add Yakuza themed food onto the menu from October 30th through December 13th. The dishes were revealed at a press event where journalists could taste the items on the 'Yakuza 5 Banquet Course'. At the event was Saki Suzuki who actually features in the game as a waitress. When asked about her appearance she replied "I wanted to give my friends a shock by appearing in the game, and I was amazed at how lifelike my CG model was."
The producer of Yakuza 5 Masa Yokoyama was in attendance and even commented on the cross-promotion with Izakaya Hanako:
When looking for a way to accurately portray the local cultures of each of the 5 cities appearing in the game, I realized that 'food culture' was an important aspect of each region.

Izakaya Hanako gives you the chance to eat local specialities from each region all at one place, that's why I like it. I hope to merge the realms of the game world and reality through our collaboration with Izakaya Hanako.
There was also a lot of other hijinks going on at the event including a t-shirt contest where mail magazine subscribers were given a chance to win a limited edition Yakuza 5 shirt. Overall sounds like a fun way to promote the game which is due for release in Japan on December 6th. Still no word on a Western release, however we will keep you updated and in the know.
[Source: VR-Zone]