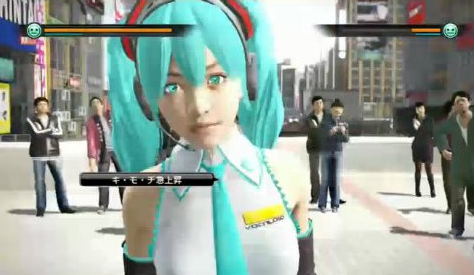 Yakuza 5, the game that has it all, including a fully playable version of Virtua Fighter, chicken racing and even ramen cross-promotion. What's that? It has Japanese gangsters as too? That's all well and good, but what this game really needs is some HATSUNE MIKU OH YEAH!
Just when you'd thought you'd seen the last of her, the super-popular vocaloid pop sensation has been confirmed to appear in several forms in Yakuza 5. According to a broadcast on popular Japanese video sharing website Nico Nico Douga, Yakuza 5 character Shun Akiyama can walk past Hatsune Miku snow sculptures and win Miku toys from a claw machine, while Haruka Sawamura can dress up as the vocaloid and engage in dance battles.
Sega have made good use of the popular Hatsune Miku license to great success over the last few months. Unfortunately for Westerners, Yakuza 5, as well as its recently announced demo, will not be leaving the shores of Japan.
[Source: Siliconera]